architecture - engineering - construction
Rooftop Ladder Guarding with SRC 360 Mobile Safety Railing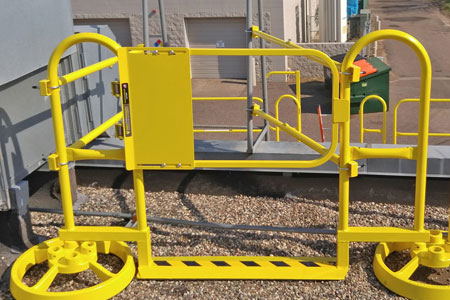 Many buildings have fixed ladders attached to the outside of the building for roof access. These ladders access points must be guarded against falls at the roof level. Safety Rail Company offers several ways to provide fall protection for fixed ladders.

When using the SRC Mobile Railing System we offer yet another option using an Integrated Gate Frame that can be used in conjunction with the railing system or used independently as a stand-alone fall protection device.

When to Use the SRC Integrated Gate Frame Kit at Fixed Ladder Access Points:
Using the Integrated Gate Frame with our SRC Mobile Railing System can be used in two different scenarios. Most commonly used with our SRC Mobile Railing System. Because the Integrated Gate Frame is a structural gate frame no outrigger railings are required at the ladder access point. The system relies on the adjacent railings of the SRC Mobile Railing System to form a unified fall protection barrier providing the same load rating as all the other railings in the Mobile Railing installation. An added benefit is that the self-closing swing gate is mounted on the gate frame instead of on the ladder itself. This allows the worker to safely step off the ladder before engaging the gate rather than trying to hold on to the ladder and open the gate at the same time. Grab bars also connect the gate frame and to the fixed ladder to close off any gay between the railing system and the ladder thereby providing 100% fall protection.
How to Request a Quote for the SRC Integrated Gate Frame Kit:
This gate frame itself is 5 feet o.c. and yields a 3 foot walkway corridor to the ladder. This system can be equipped with a manual or self-closing gate, with or without ladder grab bars. If your application requires special sizes just let us know, we are glad to accommodate your requests.
Request Quote
@safetyrailco #safetyrailco #safetyrail #fallprotection #guardrail #safetyladders

For other relevant searches, you might want to try: