architecture - engineering - construction
News
SentryGuard and SentryGuard Mini Versatile Gate Solutions
SentryGuard
Fall prevention gate to protect open loading docks, mezzanines and more. Two models: Single opening and Split opening. Single opening is designed for hazards up to 12 ft wide. Meets OSHA requirements.
Protect mezzanines, openings and loading docks with SentryGuard Gates. Single gates to 12 ft. wide are available in both manual and pneumatic models. Split models are ideal for wider openings or areas with low ceiling heights. Special mezzanine models are also available. Simple power and air quick connections make installation quick and easy. Optional air-powered Cantilever Gate requires 50 psi air-supply and 120-volt current with controls. Strobe light activates when in use.
Easy opening vertical Gate to protect dock or pit loading areas.
Single Opening Gates - either manual or automatic for openings up to 12 feet wide
Split opening cantilever style accommodate wider openings & lower ceiling heights.
Custom sizes or applications. Contact us with your requirements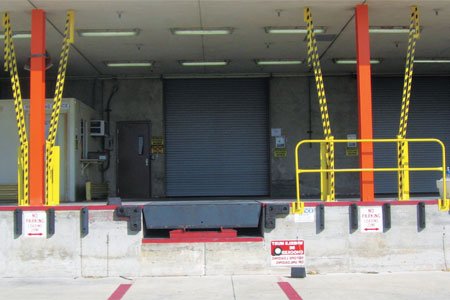 Split Gate, low clearance-open
SentryGuard Mini
SentryGuard Mini is available to protect openings up to 6 feet. Opens vertically assisted by gas struts. Also great for low overhead situations.
Easy opening vertical design for clearance.
Protects workers from stairway falls.
Meets OSHA 1910.23(a) (2)
For openings up to 6 feet wide
Operation assisted by gas strut.
Specifications
Available in sizes from 8 ft. to 25 ft.
Standard 12' length fits most shipping pits
Eight concrete anchor bolts secure system
Latch Stand provides full engagement of Single Opening gate when closed
Download the Product Brochure
For other relevant searches, you might want to try: