architecture - engineering - construction
About Architectural Wall Systems
Architectural Wall Systems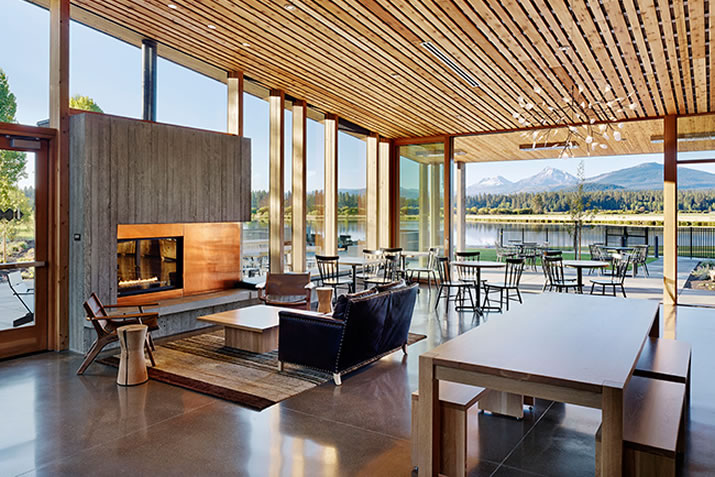 Architectural Wall Systems
With their all-wood interiors and load bearing structural integrity, our new line of architectural wall systems is a distinctive upgrade over standard storefront glazing or aluminum curtain walls. In many cases, the system's glue-laminated wood beams can even eliminate the need for steel beams.
Sierra Pacific's energy-efficient wall systems are designed to offer architects more freedom to design on-trend with the expanded use of glass, clean straight lines, and transparency between indoor and outdoor living. It provides designers a way to make a bold statement, while adding more natural light to any residential or light commercial project.
The advanced, highly-engineered wall systems easily incorporate Sierra Pacific aluminum clad wood doors, operable windows, and structural corner units. They are tested to ASTM standards for air and water infiltration, as well as structural wind-load performance. Additionally, they meet today's energy standards for heat loss and solar heat gain.
Sierra Pacific Architectural Wall System features include:
All-wood interiors
Load bearing
Vertical and sloped glazing
Incorporate Sierra Pacific aluminum clad wood windows, doors, corner units
Douglas Fir glue-laminated wood beams can eliminate steel beams
Extruded aluminum exteriors in more than 75 powder coated colors
Extensive engineering documentation
Expert support every step of the way
14' vertical walls without support under certain conditions, higher with engineering
DP50 glazing system for residential or commercial
DP70 glazing system for commercial

Brochures | 3-Part CSI specifications
06 46 13 - Wood Door and Window Casings
06 48 13 - Exterior Wood Door Frames
06 48 16 - Interior Wood Door Frames
07 77 00 - Wall Specialties
08 01 52.81 - Wood Window Replacement
08 01 52.91 - Wood Window Restoration
08 30 00 - Specialty Doors and Frames
08 40 00 - Entrances, Storefronts, and Curtain Walls
08 44 00 - Curtain Wall and Glazed Assemblies
08 50 00 - Windows
08 52 00 - Wood Windows
08 52 69 - Wood Storm Windows