architecture - engineering - construction
About Specialty Doors & Windows
Specialty Doors & Windows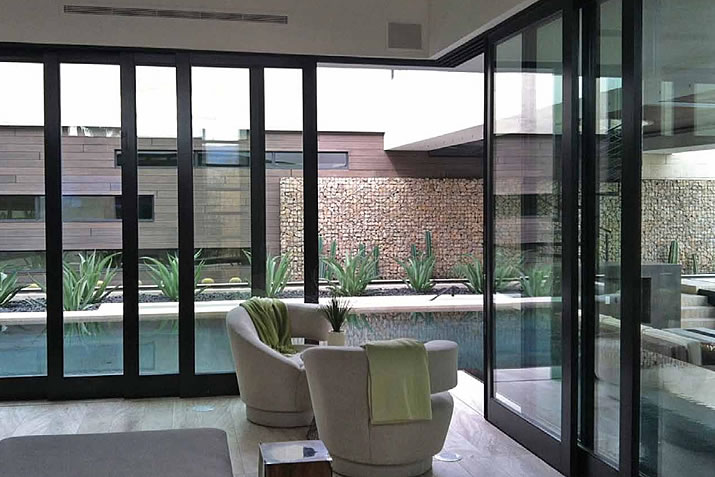 Lift and Slide Doors
LIFT AND SLIDE STACKING DOORS
The Sierra Pacific Lift and Slide Stacking Door affords maximum performance in terms of structural integrity, energy efficiency, security and protection from air and water intrusion. Maximize indoor/outdoor spaces with the Sierra Pacific Lift and Slide Stacking Door with an advanced weeping system that is ideal for areas with rainfall exposure.
Multi-Slide Products
MULTI-SLIDE POCKETING DOORS
The Sierra Pacific Multi-Slide Pocketing Door opens your wall with panels that disappear into a pocket on one or both sides of the opening. Available in a wide variety of sizes and configurations, the Multi-Slide Pocketing Door provides nearly limitless options for residential and commercial projects and suits any architectural design.
MULTI-SLIDE STACKING DOORS
The Sierra Pacific Multi-Slide Stacking Door creates moving walls of wood or wood-clad glass panels that stack to one or both sides. Our single direction Multi-Slide Stacking Door has an optional feature where the stationary panel can be released from the stationary position - allowing all panels to be stacked anywhere along the track.
MULTI-SLIDE WINDOWS
The Sierra Pacific Multi-Slide Window comes in stacking or pocketing configurations. The Multi-Slide Window can be installed as a single unit or 90 degree corner to satisfy your pass-through applications.
Dutch Doors
INSWING DUTCH DOOR
The Sierra Pacific Inswing Dutch Door can gain the extra ventilation you desire. The Inswing Dutch Door has top and bottom panels that operate independent of each other. We offer a swing screen option to accompany it.
OUTSWING DUTCH DOOR
The Sierra Pacific Outswing Dutch Door might be your solution to access your back yard from the mud room or kitchen. The Outswing Dutch Door has an interior shelf option available. The trim sets offered match our other swing door product.
Bi-fold Products
BI-FOLD DOORS
The Sierra Pacific Bi-fold Door glides smoothly to create large openings that transform your living spaces. With panels folding and stacking either to one or to both sides of an opening, the Bi-fold Door is both functional and aesthetically pleasing. The minimal panel stack width further enhances the clear opening space.
BI-FOLD WINDOWS
Sierra Pacific Bi-fold Windows are an exciting design element for any home. These innovative products create large openings and transform your space. Our Bi-fold Windows feature beautiful wood interiors with durable, low maintenance, extruded aluminum or wood exteriors. Sierra Pacific Bi-fold Windows add light, ventilation and design flexibility to your project.

Brochures | 3-Part CSI specifications
News archive:
Vista Pointe Aluminum Clad Bi-Fold Multi-Slide Patio Doors (Sep 28, 2015)
Hurd is First-to-Market with New Wood Grain Exterior Aluminum Cladding (Sep 07, 2014)
06 46 13 - Wood Door and Window Casings
06 48 13 - Exterior Wood Door Frames
06 48 16 - Interior Wood Door Frames
08 10 00 - Doors and Frames
08 14 00 - Wood Doors
08 14 29 - Prefinished Wood Doors
08 14 33 - Stile and Rail Wood Doors
08 14 66 - Wood Screen Doors
08 14 69 - Wood Storm Doors
08 14 73 - Sliding Wood Doors
08 14 76 - Bifolding Wood Doors
08 30 00 - Specialty Doors and Frames
08 36 00 - Panel Doors
08 36 13 - Sectional Doors
08 50 00 - Windows
08 52 00 - Wood Windows
08 71 00 - Door Hardware
08 80 00 - Glazing