architecture - engineering - construction
Smoke Curtain M4000
The M4000 is a pleated curtain that is stored in headbox which is generally installed above the ceiling. The curtain can also run off a building's standby power system. When deployed, the curtain can cover openings up to 15 feet drop and 200 feet length. These dimensions are highly adjustable, and the curtain's panels can be joined at angles ranging from 30 to 150 degrees, which allows for custom installations. The curtain can integrate with local smoke detection systems.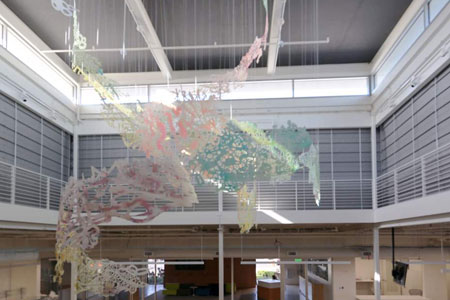 Unit Dimensions
Available in custom widths to protect openings up to 15 feet in drop length and 200 linear feet wide

Physical Properties
Headbox: 19 3 / 8 " deep by 9 " high

System
It requires 120 V AC power, and incorporates a battery for backup power in emergency situations.

Clear Opening Sizes
For openings ≤ 200' wide x ≤ 15' tall

Codes and Standards. M4000 fulfills IBC requirements to provide an opening protective, where these assemblies are permitted as passive barriers used in conjunction with smoke control systems. This fire-rated curtain system can serve as opening protective certain applications in atrium, stairwell, and escalator construction.

System Operation. The system is deployed upon a signal from the local smoke detection system or a smoke control panel. System power requirement is 120-volt AC. The unit is also equipped with a 24-volt DC battery back-up system that is maintained by the electronic controls. When required the system can also be connected to building standby power. The controls include a universal power supply that supports 230/240-volt operation.

Installation. The system is typically mounted above the ceiling. It anchors to a header above the ceiling assembly, supported from the deck above. If side guides are used, they are secured to the walls on either side of the opening. All Smoke Guard system units are to be installed by factory recognized installation personnel. Preparation work required by others is outlined in the product specification. Installation requires clear, plumb, unobstructed wall surfaces for mounting the side guides, 120v AC power and, should local smoke detection be required, a smoke detector.

For other relevant searches, you might want to try: