architecture - engineering - construction
Smoke Guard horizontal M3000
The Smoke Guard horizontal M3000 is a fire-rated assembly designed to function as a horizontally deploying opening protective between floors. Horizontal curtain deployment allows designers to compartmentalize large spaces such as atriums, drastically reducing or even eliminating mechanical smoke evacuation systems.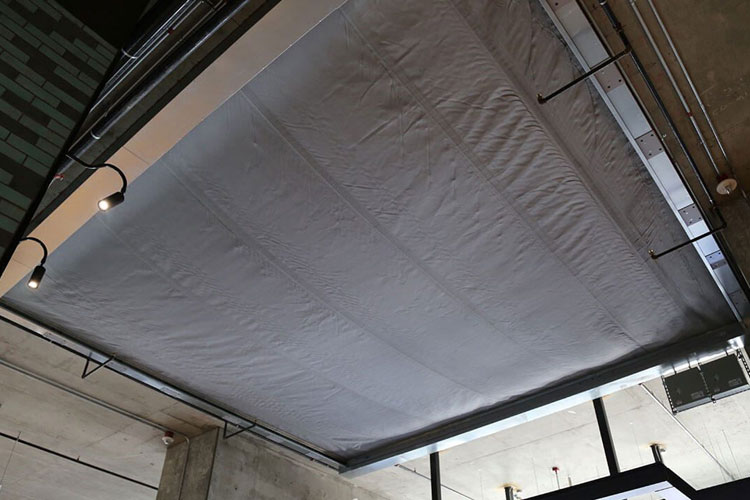 DIMENSIONS
headbox: 11" high by 14" deep
footbox: 11" high by 12" deep
side guide: 7.5" high by 8.5" wide for openings up to 24' wide by 30' long
STANDARDS
UL 10B "Fire Tests of Door Assemblies" (20 min.) listed by Intertek
UL 10C "Positive Pressure Fire Tests of Door Assemblies" (20 min.) listed by Intertek
UL 10D "Fire Tests for Fire Protective Curtains" (up to 2 hr.) listed by Intertek
UL 864 "Control Units for Fire Protective Signaling Systems" listed by Intertek
NFPA 252 "Standard Methods of Fire Tests of Door Assemblies" (20 min.)
ASTM E 84 Class A "Surface Burning Characteristics of Building Materials"
Codes and Standards.
M3000 fulfills IBC requirements to provide an opening protective. This fire-rated curtain system can serve as an opening protective in atrium, non-egress stair, and light well applications.
System Operation.
The system is deployed upon a signal from the local smoke detection system or a smoke control panel. System power requirement is 120-volt AC. The unit is also equipped with a 24-volt DC battery back-up system that is maintained by the electronic controls. When required the system can also be connected to building standby power. The controls include a universal power supply that supports 230/240-volt operation.
Installation.
The system is typically installed below a floor deck. It anchors vertically to the deck on all sides of the opening. Side guides are secured to the deck on either side of the opening. All Smoke Guard system units are to be installed by factory recognized installation personnel. Preparation work required by others is outlined in the product specification. Installation requires clear, level, unobstructed deck surfaces for mounting the unit, 120v AC power and, should local smoke detection be required, a smoke detector.

For other relevant searches, you might want to try: