architecture - engineering - construction
News
Spray Foam Insulation: A Worthwhile Winter Investment
Winters can be uncomfortable in a cold climate, especially if your current insulation isn't doing the job it should be. How can you be sure it isn't?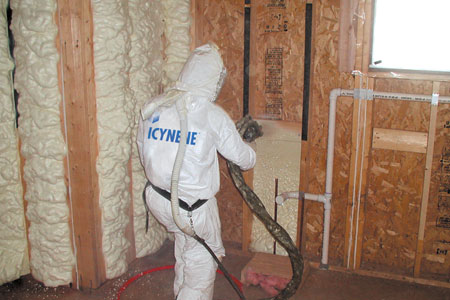 One way to tell that your insulation isn't doing its job is by looking at your monthly heating bills, particularly in the colder months. Naturally, we expect our heating bill to be higher when it's colder. However, if it seems like you're pouring money into that bill every month, or you need to keep your house cooler in order to save money, chances are good that you would benefit from replacing your current insulation with Icynene spray foam.

When you insulate your home with Icynene, problems like skyrocketing heating bills and a cold house are things you can wave goodbye to. That's because Icynene spray foam insulation expands to fill in the gaps and holes where it is applied, air sealing your home. An air seal means no drafts, and that combined with Icynene's consistent R-value means that your house will be comfortable in the cold winter months, without needing to turn your thermostat unreasonably high.

Doesn't that sounds like a worthwhile winter investment?

Find a licensed Icynene spray foam insulation contractor in your area, to discover more reasons to choose Icynene.

Spray Foam Insulation Product Portfolio
Icynene's commercial insulation products have been formulated to achieve your design, energy-efficiency and performance goals and are guaranteed to perform for the life of the building. Our high-performance foam insulation offering is continually evolving to address changes in codes and design performance requirements.
Icynene closed-cell medium-density foam insulation is suitable for use in both exterior and interior applications while our half-pound open-cell light-density foam insulation products are best suited for interior applications. Both medium-density and light-density spray foam insulation can be used effectively in numerous building types, including healthcare, military, educational, commercial, retail and more. Our Building Science team can work with you to determine the best commercial insulation product for your design.
Open-Cell Products (Light Density)
Closed-Cell Products (Medium Density)
For other relevant searches, you might want to try: