architecture - engineering - construction
Stainless Steel Cable for Cable Railing Systems - 1x19
1x19 cable is the standard infill for cable railing systems. With a simple design of 19 steel strands twisted together, this type of cable is visually sleek and particularly strong, allowing for thinner diameters that better keep your view open without compromising safety.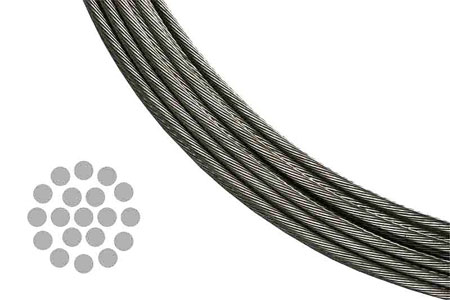 Unlike the typical rigging cables used in construction, our cable is independently verified and chemically tested to only be Grade 316L: a specific class of marine grade stainless steel that boasts lower carbon content and higher luster. After accepting our cables, we clean and electro-polish them for superior shine and beauty. When you order our cables, you can be sure you're ordering the highest quality cable out there.

Benefits / Technical Information:

Material: 316L Marine Grade Stainless Steel
Size Options: 3/16" for commercial or 1/8" for residential
Actual Breaking Load: 3/16" 4719 lbs. / 1/8" 1890 lbs.
All our cable railing hardware and end fittings are engineered specifically for our cable, ensuring compatibility.
Mill Test Certificate and Chemical Analysis available on request.
Use in predominantly straight runs with no bends over 45 degrees.
Priced per foot to prevent excess cable waste.
Order Now

For other relevant searches, you might want to try: