architecture - engineering - construction
Stainless Steel Waterstop for Concrete Joints
Earth Shield® Stainless Steel Waterstop can stop even the most corrosive fluids in their tracks, even at severely elevated temperatures. A variety of metals, grades, and gauges are available. Earth Shield® utilizes 20 gauge 316 low carbon as our standard alloy, which offers broad spectrum corrosion resistance to most aggressive media, and is virtually untouched by the deleterious effects of ozone, making it an ideal choice for ozone contactor structures used in modern water treatment plants.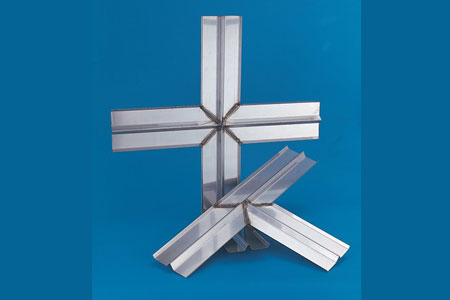 Hydrophobic SS Waterstop

Prevents the passage of extremely corrosive fluids (even at elevated temperatures) through concrete joints by creating an internal dam, spanning both sides of and running continuously along the concrete joint.
The most difficult to install waterstop, as split-forming is always necessary (with the exception of retrofit profiles). Also, TIG or MIG welding is required.
Contains no plasticizer to leach out (unlike PVC) from exposure to hydrocarbons, acids, ozone, ultraviolet radiation, or time.
Products are available for above- or below-grade; limited-moving or non-moving applications.
Designed to last the life of the concrete structure.
Able to withstand extreme temperature conditions (high heat, LNG, etc).
Earth Shield® Stainless Steel Waterstop is available in many standard shapes and sizes, including profiles for new construction and retrofit. All change of direction fabrications can be pre-manufactured leaving only straight butt welding for the field.

For other relevant searches, you might want to try: