architecture - engineering - construction
Waterstop for Concrete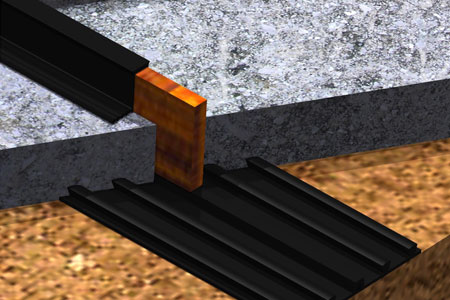 Waterstop plays a critical role in the integrity of concrete structures. It provides a fluid-tight diaphragm when embedded in, and running through concrete joints. Earth Shield Thermoplastic Vulcanizate Waterstop (TPE / TPER / TPV), by J P Specialties greatly expands the scope of conventional waterstop by offering unmatched chemical resistance to a broad spectrum of aggressive chemicals, solvents, and hot petroleum oils. Manufactured NSF Certified, EPA-compliant (RCRA, SPCC, CFR 265.193, CFR 112) waterstop profiles are available for new construction and retrofit, as well as the necessary tools and accessories for proper installation.



Earth Shield® Stainless Steel Waterstop is used in applications requiring extreme heat or cold resistance, as well as the ultimate protection from high concentrations of ozone or hazardous aqueous chemicals.



Earth Shield® TPV (thermoplastic vulcanizate) Waterstop is the world's leading chemical resistant waterstop, with renowned physical properties and broad spectrum resistance to hazmat, deleterious fluids, and concentrated ozone. NSF 61 certified and GreenSpec listed.



Earth Shield® HDPE (high density polyethylene) Waterstop offers "the clear advantage" for fuel (including jet fuel and diesel) containment applications.



Thermoplastic welding irons and related concrete accessories.



Earth Shield® Column & Pipe Fitting part no. JP320LC1 is designed to seal the joint around circular penetrations through concrete.



Earth Shield® Hydrophilic and Mastic Strip Applied Waterstops are the simple solution for construction joints.

JP Specialties, Inc. is the leading manufacturer of chemical resistant waterstop and related concrete accessories. Our NSF 61 certified Earth Shield® line of chemical resistant waterstop is used throughout the world by major engineering firms and project owners for primary and secondary containment applications, as well as industrial wastewater treatment and ozone contactor structures. We invented and hold the patent on the technology used to mechanically weld thermoplastic waterstops. Services offered include free blueprint take-off and shop drawings, on-site welding certification, and individual corrosion resistance certification for the project owner.

We assist the Design Engineer and Project Owner with individual project and waterstop product specification and certification
Full takeoff service including shop drawings at no cost to customer
Waterstop Shop Drawings including 2-D CAD details and 3-D isometric
FAST job site delivery anywhere in the world

For other relevant searches, you might want to try: