architecture - engineering - construction
Sto Corp. Presents Stolit™ Milano, an Easy-to-Apply, Ultra-Smooth Exterior or Interior Decorative and Protective Wall Finish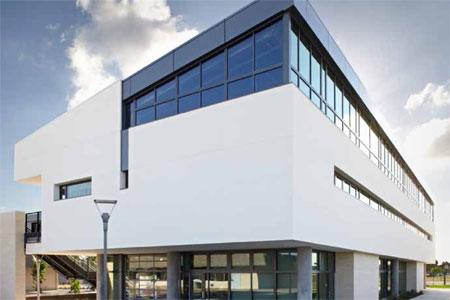 Stolit™ Milano is a very fine, extremely workable finish for interior or exterior wall surfaces that yields more coverage than comparable products on the market. In just two to three coats, this versatile finish can achieve multiple decorative looks, from a fine grit texture to the industrial feel of ultra-smooth metallic panels. Highly breathable and mildew resistant, Stolit Milano can also be top coated to provide additional abrasion protection.

This ready-mixed, water-based acrylic finish can be custom tinted to a wide selection of colors. It requires no additives so it minimizes waste, and unused material can be stored in the sealed pail. The low VOC formulas are safe to use and tools clean up in water.

Stolit™ Milano Benefits:

Exceptional Design Versatility

By varying application technique and coating combination, many looks can be achieved, including that of Venetian plaster, metal, and even concrete
Suitable for both interior and exterior wall applications
Integral color of finish results in a longer lasting, more uniform look
Can be tinted in a range of colors from the Sto Color System
A More Cost-Effective, Time Efficient Application
Easy 2-coat process to achieve an ultra-smooth exterior finish
Requires no specialized application technique
Provides more coverage than other 'smooth' finishes
Low maintenance due to product's moisture resistance and vapor permeability
Can be top coated for enhanced abrasion resistance
Safe for Applicators, Gentle on the Planet
Ready-mixed product requiring no additives – minimizes waste and potential errors
Better workability results in reduced worker fatigue
Water based, low VOC
Easy 5-Step Application for a Beautiful, Ultra-Smooth Finish.
Scrape or stone the base coat to remove trowel lines and other surface imperfections and remove surface dust.
Apply "Sto Primer Smooth"uniformly by spray or roller and allow to dry.
Apply a uniform coat of Stolit Milano by trowel and allow to dry.
After the product has dried, sand any trowel lines or imperfections with 100-150 grit sand paper and remove surface dust.
Apply second uniform coat of Stolit™ Milano by trowel and allow to dry.
Watch the Stolit Milano Smooth Surface Finish Application Video
Watch the Stolit Milano with Ultra Smooth Finish for Metallic Looking Surface Video
About Sto Corp
Since introducing the world's most energy efficient and easy-to-apply insulation and finishing system in 1963, Sto has been dedicated to consistently setting new industry benchmarks around the needs of each and every customer.
As a building owner, you need to keep your property value high and your costs low. As an architect or specifier, you need to focus on aesthetics and feasibility. As a contractor, you need products that are easy to work with.
Whatever your role, Sto understands your unique needs, and delivers the smart, innovative materials and solutions that make your job easier. That's what makes us an innovative leader in integrated exterior wall systems. But we don't stop there.

For other relevant searches, you might want to try: