architecture - engineering - construction
StoneLite® natural stone composite panels
Our StoneLite® panel product has four major benefits when compared to traditional solid stone systems: they are lighter, they are stronger, they are impervious to water and they are tested. Panels from Stone Panels International LLC are one-fifth the weight of dimensional stone and provide huge savings regarding installation time, labor and structural requirements.

Also, thanks to our patented manufacturing process, StoneLite® panels can resist 60 times more impact than granite that is 3 centimeters thick. In addition, the fiber-reinforced epoxy skin found on our natural stone composite panels creates a waterproof barrier, making them impervious to water. These attributes, along with thorough testing for acid freeze-thaw, air and water filtration, structural and impact load, fire, attachment systems and more, place StoneLite® panels at the forefront as a building material of choice.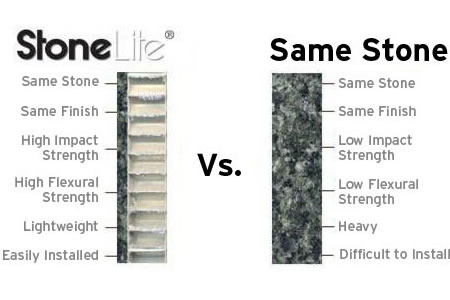 Stone has been used as a building material since the ancient Egyptians built the Pyramids and the Romans built their Empire, so why use StoneLite® instead of traditional methods?
The fact is that traditional methods of building with load-bearin stone blocks would be cost prohibitive for most modern buildings and the "new tradition" of 3 to 4 cm (1 1/8 – 1 ½ inches) thick no load-bearing veneers has actually only been common for about 40 years. There have been many failures with structures using these systems that testify to the reasons for using StoneLite® panels.
Strength
There are several ways in which our StoneLite® panels improve upo the conventional building material of dimensional stone cladding. StoneLite® panels are stronger, more flexible and more stable than traditional solid stone. StoneLite® panels turn natural stone into decorative veneer, making dependence on stone for load-bearing purposes inconsequential.
Flexibility
StoneLite® panels are very flexible and can move with structures making them invaluable in regions prone to hurricanes or earthquakes. Dimensional stone cladding is brittle and has low flexural and poor impact strength. Just as important to note, StoneLite® alleviates the concern with traditional solid stone that the stone can warp from cutting and temperature fluctuations.
Stability
The thin stone found on StoneLite® panels cannot exert meaningful force on their reinforcing materials. As a result, our lightweight stone panels systems don't experience the stability failures that dimensional stone cladding systems do.
We have buildings clad with over 300,000 square feet of our StoneLite® panels – the exact same stone used on the original installations of the Amoco and Lincoln First Tower Buildings. Our panels are the same today as they were when installed.
Bond STRENGTH
Beyond the areas in which StoneLite® panels improve upon traditional stone systems, there are reasons for choosing StoneLite® over competitor products. Rigorous bond strength testing and approval from the International Code Council for StoneLite® do much to testify to the product's bond strength.
In fact, bonding strength for our stone panels only improves with time; thanks to the curing of the epoxy resin. There is so much security in the bonding strength of StoneLite® panels that builders first and perhaps only concern for system failure lies with the stone itself. Thie only lends more credence to the fact that StoneLite® is preferable to both traditional stone systems and competitive products.
We have never had a warranty claim (for delaminating or otherwise) for our panels. Neither are we likely to, considering the strengths we achieve.
Attachment Systems
In addition, Stonelite® panels are a preferable choice to traditional solid stone because of improved attachment systems. Dimensional stone systems have kerfs cut into their edges and leave little room to set anchors. The attachment system situation with dimensional stone exposes the weakest properties of the stone, whereas the full-surface bond coverage of a StoneLite® system alleviates attachment concerns that come with traditional systems.
Weatherproof
Two layers of impervious high strength fiber reinforcement between the stone veneer and the aluminum honeycomb, coupled with the epoxy skin backing of Stonelite® panels creates a weatherproof barrier that doesn't exist with a porous stone cladding system.
Experience
The experience and testing endured by StoneLite® is what has, in large part, led to such wide acceptance within the industry for its use as a preferred building material. Stone Panels International LLC has been producing StoneLite® panels for over 40 years and our panels have been used on buildings in the U.S. for over 30 years. Beyond this history, the technology behind StoneLite® panels has been performing in the aircraft industry for about 60 years; bonding aircraft parts.
Testing
Should you want even further confirmation for choosing StoneLite®, you need only look to the testing page of our website, where we cover the acid freeze-thaw, air and water infiltration, structural and impact load, fire, attachment system, and other testing that StoneLite® has successfully and impressively undergone.
Cost and color
StoneLite® improves upon both cost and color, when compared to solid stone cladding. Because natural stone composite panels from Stone Panels International LLC are so lightweight, panels can be both cut and maneuvered around at the point of manufacture and by installers to create a cohesive look much more easily than dimensional stone. Also, because of an 80 percent reduction in weight, StoneLite® can save builders 20 to 50 percent in installation costs.
Product acceptance
While many companies attempt to recreate their own versions of StoneLite® panels, we can show buildings across the world with authentic StoneLite® panels.
While "traditional" methods have shown shortcomings and major failures, StoneLite® panels continue to provide a natural stone façade to buildings that is extremely strong and can withstand the test of time.
The millions of dollars we save for property owners on initial cladding, or recladding, is an added bonus. Amoco's experience (initial cladding cost – $6.5 million; corrective recladding – $80 million) amply demonstrates the long-term benefits of the StoneLite®panels solution.

For other relevant searches, you might want to try: