architecture - engineering - construction
StonePly for Elevator Floors and Accents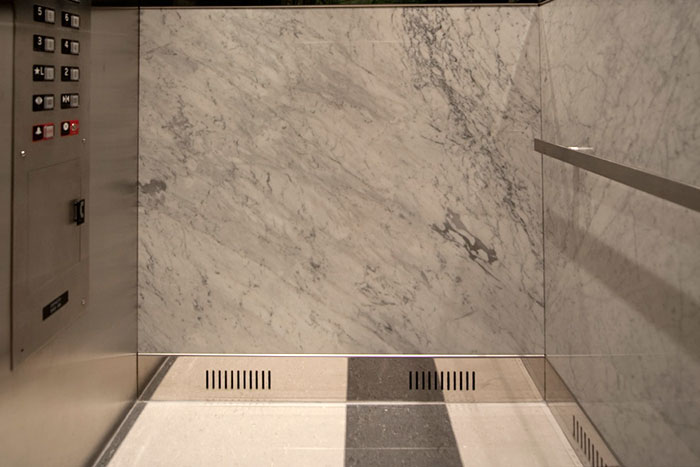 Make it Unique and Beautiful
Select from thousands of natural stones from quarries around the world. Whether a granite, marble, or travertine, StonePly can manufacture the stones of your choice into panels that are fit and ready for installation.

StonePly offers a wide range of finishes to apply to your elevator panels. Select from polished, honed, sandblasted, and more.

Already have stone in the lobby, adjacent walls, or hallways? StonePly's versatility means you can continue the same natural stone cladding throughout the building. Finally a consistent aesthetic can be achieved without worrying about the weight of stone in an elevator.
Elevator Renovations
For elevator renovation, the lightweight, prefabricated StonePly panels can be easily carried in and quickly installed with minimal downtime. With the simplified StonePly system, the stone installation can be handled by carpenters or handymen.
New Elevator Construction
For new elevator construction, the production of the cab shell can be separated from the production of the walls and floor. This allows for both to progress simultaneously and be assembled on site. Complex cab designs can be installed after completion of the elevator cab shell.
Installation
For the walls of the elevator, StonePly stone panels are easily installed with Z-clips. With a lightweight, aluminum honeycomb backing, installation of the wall panels is a snap. The stone panels can even be manufactured with the attachment hardware pre-installed, reducing time, cost, and complexity in the field.

StonePly panels can be installed on the floor of the elevator cab as well. The floor is typically composed of a quarter inch of plywood, adhered to the metal floor of the cab with screws and adhesive. The StonePly stone panels are then mounted with adhesive or concealed tabs.

Get detailed StonePly installation instructions.
#StonePly #StonePlyHoneycomb #RealStone #NaturalStone

For other relevant searches, you might want to try: