architecture - engineering - construction
Storybook Event Venue Counts on PENETRON for Durability
Set among acres of manicured gardens in Terrey Hills, just 24 km (15 miles) north of Sydney, the Miramare Gardens provide a luxurious setting for weddings, corporate events and other occasions. The recently completed construction project, designed by Squillace Architects and Structural Design Solutions, included a comprehensive expansion of the infrastructure and renovation of the grounds. A 51-room boutique hotel (47 deluxe king / twin rooms, four garden suites and a three-bedroom penthouse suite) and upmarket café were added and the gardens have been completely redesigned.

"The PENETRON team in Australia worked with Metromix to optimize the concrete mix used on the new buildings and in the redesign of the grounds," explains Jozef Van Beeck, International Sales & Marketing Director of The PENETRON Group.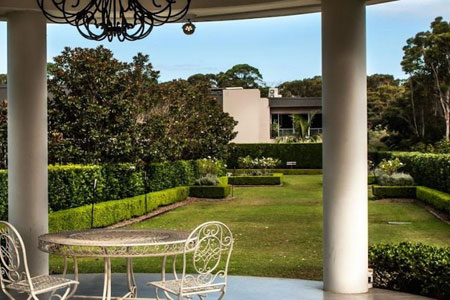 For the new gardens, 200m3 of PENETRON ADMIX was used to waterproof concrete landscaping structures and the new tunnel that now connects the previous and new buildings with the parking area. PENETRON ADMIX
was also used for the lift pit, the water retention tank and the 250m3 roof slab. PENECRETE Mortar and PENETRON crystalline waterproofing material were used to provide waterproofing to all existing above and below-ground concrete structures.

"PENETRON technology was chosen by the Miramare Gardens project managers to ensure extra protection and durability for the concrete structures throughout," adds Mr. Van Beeck. "The new Miramare Gardens now provide a luxurious and unforgettable setting for any number of events!"

The PENETRON Group is a leading manufacturer of specialty construction products for concrete waterproofing, concrete repairs and floor preparation systems. The Group operates through a global network, offering support to the design and construction community through its regional offices, representatives and distribution channels.

For other relevant searches, you might want to try: