architecture - engineering - construction
The Bilco Company Introduces New Basement Door for Homes with Sloped Sidewalls
The BILCO Company has introduced a new basement door for homes with sloped sidewalls that is much easier to install and features improved lift assistance design for easy, one-hand door operation.

The new Type BR door from BILCO is designed for installation on sloped sidewalls of brick, stone, block or poured concrete, which are generally found on older homes throughout the country. For these homes, basement door replacement can often be more challenging than newer homes with an areaway surface that is flat or at grade level. The BR Sloped Wall door simplifies sizing and installation.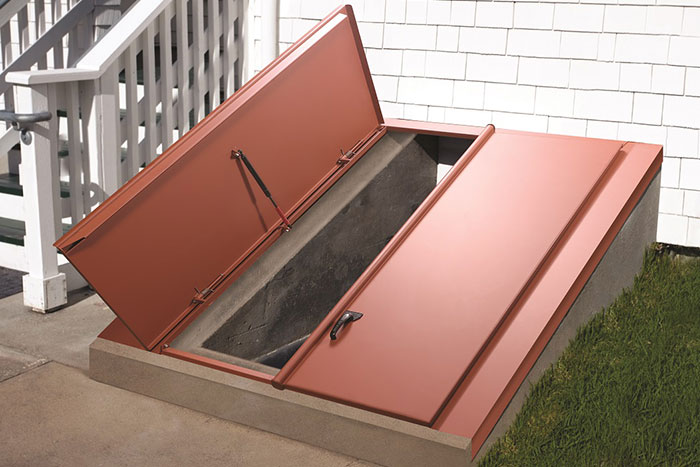 Unlike the company's previous basement door model for sloped walls, the frame of the new model does not hang down into the masonry opening, making installation fast and easy. The Type BR basement door is designed with a flat frame that can simply be placed on top of the sidewalls and positioned as required to accommodate the areaway opening dimensions. The door is available in three standard sizes and extension panels and foundation plates are available to accommodate virtually any areaway dimension.

Ideal operation for sloped wall basement door installations has always been a bit tricky as the angle of the sidewalls can greatly affect the lift assistance required. In addition to simplified sizing and installation, the Type BR basement door features an innovative lift assistance design to solve this problem.

This new design features gas spring operators and supplemental coil springs to counter-balance the door leaves for easy one-hand operation. The gas spring operators do the heavy lifting and the adjustable coils allow homeowners to fine tune the operation of their door to match the angle of their sidewalls.

The Type BR door features heavy gauge steel construction and includes concealed hinges that are protected from weather to ensure all-season operation. The flanged design disperses water to ensure a weathertight areaway and the baked-on primer finish ensures many years of dependable service. The doors can also be supplied with an optional powder coat paint finish that is available in a number of standard colors to match any homes exterior. This polyester resin finish provides a weather-resistant, chip-resistant coating that is more durable than traditional wet coatings.

@TheBilcoCompany #TheBilcoCompany #flooraccess #roofhatches #smokevents #basementdoors

For other relevant searches, you might want to try: