architecture - engineering - construction
The BILCO Company Introduces Powder Coated Finishes for Type BR Basement Doors
The BILCO Company announced its Type BR basement door is now available with a powder coat finish, offering customers both durability and aesthetics.

The Type BR door is designed for installation on sloped sidewalls of brick, stone, block or poured concrete. Those materials are generally found on older homes throughout the country. Basement door replacement can be more challenging on those residences than new homes with an areaway that is flat or at grade level, and the BR door simplifies sizing and installation.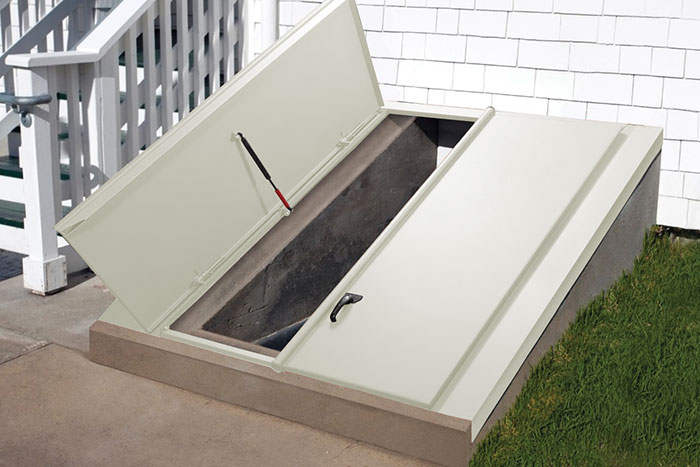 While BILCO has offered a powder coat finish on its basement doors for more than a decade, the technique is new for the BR door, which was only available with a baked-on primer finish since its introduction in 2020.

Powder coating involves the application of a free-flowing powder onto the surface of basement doors, which is then baked to form a thick and uniform coat. The process results in a superior finish, offering a high-end appearance that enhances the aesthetic of the doors. BILCO expanded its color choices for powder coat finishes and now offers Gray, Sandstone, Brick, Black, White and Green. Those colors will match the exterior of almost any home.

One of the key advantages of powder coating is its exceptional durability. Unlike traditional wet painting methods that only create a physical bond, powder coating forms a chemical bond between the dry powder and the surface of the steel doors. This chemical bond significantly improves the doors' resistance to peeling, chipping, cracking and abrasion. By adding powder coating to already robust steel doors, BILCO ensures an extended lifespan, providing customers with long-lasting and reliable access solutions.

BILCO's powder-coated basement doors require minimal maintenance. The chemical bond formed through the powder coating process eliminates the need for regular touch-ups or repairs. Customers can enjoy the pristine appearance of their basement doors for an extended period, with only occasional cleaning necessary to maintain its optimal condition.

Unlike wet painting methods that involve the use of solvents and harmful chemicals, the dry-coating process used in powder coating is eco-friendly. By selecting BILCO's dry-coated basement doors, customers can rest assured that their choice aligns with their environmental values, as no dangerous substances will leach into the soil or release toxic fumes.

This design of the BR door features gas spring operators and supplemental coil springs to counterbalance the door leaves for easy one-hand operation. The gas spring operators do the heavy lifting and the adjustable coils allow homeowners to fine tune the operation of their door to match the angle of their sidewalls.

The Type BR door features heavy gauge steel construction and includes concealed hinges that are protected from weather to ensure all-season operation. The flanged design disperses water to ensure a weathertight areaway.

@TheBilcoCompany #TheBilcoCompany #flooraccess #roofhatches #smokevents #basementdoors

For other relevant searches, you might want to try: