architecture - engineering - construction
The Wise Choice: Unitized Curtain Walls from Kalwall
As construction throughout the United States slows or even stalls due to a shortage of glass curtain wall systems, more builders and architects are turning to Kalwall® unitized curtain wall.

Both structural and diffuse light-transmitting, Kalwall offers the industry's best U values and solar heat gain control to perform as a superior thermal envelope, especially when compared to polycarbonate systems and most insulated glass (IGU).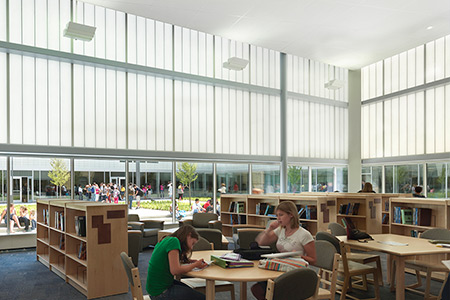 The appeal of Kalwall is stronger than ever now that a shortage of materials and production ability for glass curtain wall systems has taken its toll on the construction industry. The cost of glass curtain wall systems has risen dramatically. Meanwhile, the production of Kalwall unitized curtain wall systems remain on time and on budget.

The payoff for our factory unitized wall systems is a single-source fabrication that results in increased quality for long-term performance over field installed joinery. Kalwall includes its specially engineered, thermally broken installation system for a complete "kit of parts." Kalwall also offer project specific daylight engineering with its free modeling service to assist with product selection that will meet lighting goals.

Kalwall has long been a leader in sustainability. Kalwall panels have been harvesting daylight without sacrificing thermal performance for 60 years. Since its inception, Kalwall has been incorporated into the designs of almost 1000 LEED® certified projects and has also been specified in multiple zero energy buildings and BREEAM® projects.

Kalwall can build unitized facade panels up to 5′x30′ and incorporate fixed and operable vision glazing, including our high performance E-series fixed and operable windows.

About Kalwall Corporation

At Kalwall, we are committed to providing the best museum-quality daylighting™ available along with superior thermal performance options – all while reducing a building's carbon footprint. All of our daylighting products rely on our innovative, sustainable, lightweight structural sandwich panels that are revolutionary in fenestration technology for their combined light quality, energy efficiency and solar control properties. Today, Kalwall continues to offer rugged, beautiful, translucent building products that offer designers flexibility and deliver glare-free, diffuse daylight deeper and more evenly into spaces. We are passionate about the fundamental connection between light and health, and we understand that without light, there is no life!

For other relevant searches, you might want to try: