architecture - engineering - construction
Topping Off a Depot with PENETRON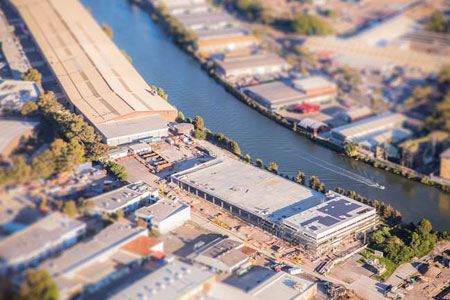 The newly opened Waverley Council Depot just east of Sydney, Australia, features an expansive rooftop area that provides parking and protection. Thanks to PENETRON technology, chosen by the contractor over a competitive product, the facility has a durable and waterproof solution.

Waverley Council is a local government area in the eastern suburbs of Sydney, Australia. It provides and supports a variety of community services and programs for Waverley. A new facility, the Waverley Council Depot, was recently inaugurated to house municipal vehicles for the adjacent Waverley, Woollahra, and Botany Councils. The new depot features truck wash bays, repair workshops, training rooms, storage areas and offices – all under a rooftop parking area.

"After evaluating product performance and track record, PENETRON was chosen over all other competitors," explains Richard Hassoun, Contracts Administrator for Cockram, the project's principal contractor. "The performance, communication and service from the PENETRON team were excellent. They were very approachable and open, they always made sure the internal testing procedures were in place to ensure quality, they never missed a pour, and they serviced the project effectively."

PENETRON ADMIX was used to treat 1,400 m3 of concrete for the ramp driveway and the entire rooftop parking area and concrete roof of the structure. PENEBAR SW-55 waterstop was used on all the construction joints in the same area. PENETRON technology was chosen by Cockram to provide durability to the concrete structures to withstand both traffic and weather – and protect the facility infrastructure and vehicles.

"At PENETRON, we put a lot of effort into providing comprehensive customer support for every project," says Jozef Van Beeck, International Sales & Marketing Director of The PENETRON Group. "Our crystalline concrete technology was the optimal solution for this facility."

"The Waverley Council Depot project was a very positive collaboration and I highly recommend using PENETRON over any other crystalline manufacturer," adds Mr. Hassoun.
The PENETRON Group is a leading manufacturer of specialty construction products for concrete waterproofing, concrete repairs and floor preparation systems. The Group operates through a global network, offering support to the design and construction community through its regional offices, representatives and distribution channels.

For more information on PENETRON waterproofing solutions, please visit www.penetron.com or Facebook.com/ThePenetronGroup, email CRDept@penetron.com, or contact the Corporate Relations Department at 631-941-9700.

For other relevant searches, you might want to try: