architecture - engineering - construction
Traco NX-4000 Series Thermal Window
To help architects and building owners maintain the historic look of a building while also providing high energy efficiency, Traco, a division of Kawneer Company, Inc. and a leading manufacturer of high performance windows, introduced its NX-4000 Series Thermal Window. By incorporating the benefits of Traco's proven NX-3000 projected window series, the new NX-4000 Series Thermal Window offers the performance of a projecting window with the distinctive look of a hung window – an ideal combination for specialized retrofit projects.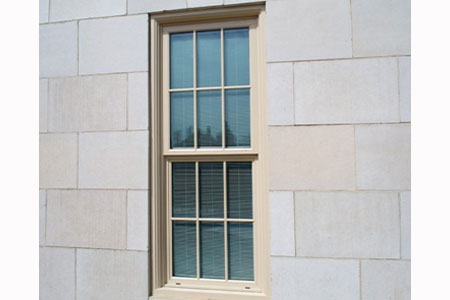 Traco has built a reputation for producing windows that meet the highest quality and performance standards, and the NX-4000 Series Thermal Window is no exception. Featuring Traco's NexGen Thermal Barrier System™, NexGen Energy Spacer™ and 1-inch insulating glass, the window offers outstanding air and water performance. The NX-4000 Series was tested to a design pressure of 80 psf and water performance level of 15 psf.
The NX-4000 Series Thermal Window's projected window design provides increased durability, trouble-free operation and flexibility while maintaining the hung window aesthetic. Made from aluminum, the NX-4000 Series' thermal frame will never rot, warp, or buckle due to moisture and weather exposure. For increased resilience, the NX-4000 Series Thermal Window uses hollow extrusion profiles with Euro-groove construction for reliable hardware attachment. The Euro-groove hardware attachments are proven to be stronger than traditional mechanical fastener methods.
The ability to triple-glaze, using the combination of 1-inch insulating glass, access panel and internal blinds keeps things quieter, adds privacy and makes the NX-4000 Series Thermal Window ideal for schools and medical facilities. Designed with a master frame depth of 4-5/8 inches and a 3-1/8 inches operable vent depth, the projecting window has an exaggerated offset of 1-1/4 inch minimum between the upper and lower exterior glass surfaces. Bevel edge framing on the vents and fixed lites replicate the look of a putty glazed window while optional exterior profile muntin grids can simulate divided lites and offer several additional pleasing design options.
For more information on the NX-4000 Series Thermal Window or any of Traco's range of high performing products, please visit www.traco.com.

For other relevant searches, you might want to try: