architecture - engineering - construction
Tricon Steel-Con Plus Pipe System
Class "A" System for applications up to 450°F below and above ground:

Consensate
Fuel oil
Heating hot water
High temperature hot water
Process piping
Steam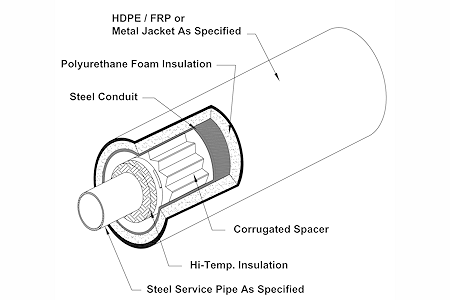 APPLICATION: Steam, Condensate, High Temp. Hot Water, Process Piping, Fuel Oil

SERVICE PIPE: Carbon Steel

INSULATION: Mineral Wool, Fiberglass, Calcium Silicate, Cellular Glass

JACKETING: 10 ga. Spiral Buttweld

INSULATION: Polyurethane Foam

JACKETING: HDPE or FRP

TEMP: Up to 450 °F / 232 °C

NOM. LENGTH: 20 Ft. - 40 Ft.

For other relevant searches, you might want to try: