architecture - engineering - construction
News
TurboCable Fall Protection System
Customizable Perimeter Safety
TurboCable is the latest in fall protection with a clamp on perimeter system allowing an OSHA Compliant work zone all the way to the roof edge. After quick set up, your work area is more productive by not having to be tied off. Installs easily on parapet, flat edge, and slab edge roof details.
A leading edge cable system with heavy-duty steel clamps and stanchions. Uses the same clamp and stanchion components as the TurboRail system for maximum interchangeability. Systems are available up to 540-feet with steel storage boxes.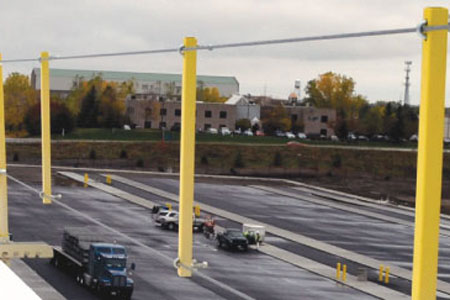 Features
TurboCable saves money on the first job with improved worker productivity. Warning line systems require a minimum 6ft. distance from roof edge. With TurboCable, after set-up, workers do not require tie-off to complete edge to edge repairs.
Cable based modular leading edge fall prevention system.
Secures to parapet or slab edge enabling free access to entire protected area.
Meets OSHA 1926.501(b)(1)
Heavy duty 7 gauge 2 piece steel clamps mount easily to surface.
16 gauge 48 inch long steel stanchions
Kits available in 220 and 440 foot lengths.
12 gauge steel storage box included for transport and storage.
Labor Savings Study Results
Warning Line


(6ft. from perimeter)

TurboCable


Perimeter System

Activity/ Squares
Hours
Hours
Set Up Time/ 100
1.5
10
Tear-Off Inside Perimeter/ 76
228
300
Tear-Off Outside Safe Zone/ 24
144
0*
Tear-Off Outside Safe Zone/ 24
144
0*
Install inside Perimeter/ 76
114
150
Install Outside Safe Zone/ 24
72
0*
TOTAL HOURS
560
460
TOTAL DOLLARS ($50/hr)
$27,975
$23,000
SAVINGS
$4,975
*With TurboCable all install and tear-off work is performed within the safe zone.
URL:
http://garlocksafety.com/turbocable
For other relevant searches, you might want to try: