architecture - engineering - construction
Wall & Floor Coatings in Hospital and Healthcare Clean Rooms
There are many settings where the need for clean rooms with seamless floors and walls are needed. Healthcare clinics and hospitals, in particular, need seamless, durable wall and floor coatings.

Vinyl or FRP (Fiber reinforced plastic) is sometimes used as a clean room floor and wall covering because it covers large areas easily and can be seamless. Even so, vinyl has disadvantages when compared to epoxy coatings.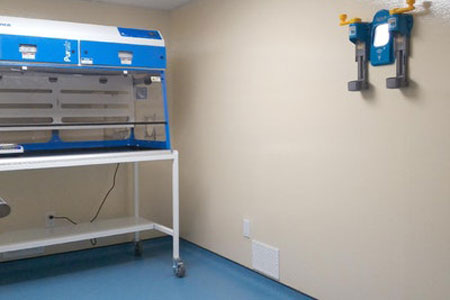 For instance, the subfloor or wall must be perfectly smooth. If not a self-leveling cement may need to be applied first which adds a significant extra expense. Self-leveling Epoxy can be applied directly to the surface.

Wall and floor coatings in hospital and healthcare clean rooms must meet certain requirements. Firstly, they must be slip-resistant and safe. They should be puncture-resistant, and stain resistant. The disinfectants and cleaners that are used in hospitals and healthcare settings are harsh and get used often. The floor must be able to withstand that regular cleaning regimen.

The walls and floorings must be able to withstand the traffic of beds and carts bumping and scuffing against things. All Duraamen's epoxies can take the addition of an anti-microbial additive to protect the surfaces against microbes.

While vinyl or FRP meets some of these requirements, vinyl can't stand up to repeated heavy traffic. Epoxy coatings, on the other hand, do meet all of the above standards. Color can be added with ease, allowing for customization of your flooring's appearance or for spatial organization or way finding.

When using epoxy coating as a wall paint and floor coating, cove base allows for seamless application from floor to ceiling. Wall coves are a must in a healthcare setting, so that the corners are easy to clean. Healthcare clean room walls and flooring must be safe, sanitary and durable and you get that with epoxy coatings. Duraamen's Perdure E44 and the Perdure E02, 100% solids epoxy primer is an excellent choice for your epoxy wall and floor coverings.

With these, you know you're getting the highest level of sanitation and hygiene along with an easy-to-apply, low-maintenance and easy-to-clean floor that will stand up to use for years. To learn more about your flooring and wall coating choices in hospital and healthcare clean rooms, get in touch with Duraamen. We can walk you through your needs and how our products can match those.

For other relevant searches, you might want to try: