architecture - engineering - construction
WallDefender™: Helps Keep Cavity Walls Dry and Flashings Functioning Properly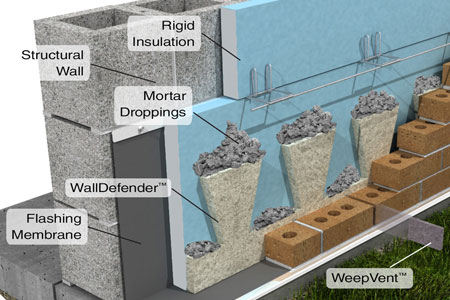 Mortar dropping device that helps prevent mortar droppings from blocking the weeps.

Features
Dual levels
Trapezoidal shape
90% open weave mesh
Up to 54% recycled content
Benefits
An alternative to MortarNet® without an Insect Barrier
Breaks up and suspends mortar droppings above the flashing on two levels so weeps stay open
Open weave mesh construction provides hundreds of pathways for moisture to exit the cavity
Is very permeable to air, water and water vapor due to the low fiber density of the non-woven structure
Helps prevent efflorescence and damage from freeze-thaw cycles
Easy to transport, handle and cut, even on scaffolding
Installs easily on brick ties in multi-story cavity walls
Will not degrade, oxidize, or react with common building materials
Clean and non-toxic
Recycled content helps with LEED certification
Helps eliminate callbacks to repair moisture damage
Provides masons and building owners with a greater peace of mind
Weep holes must be used with WallDefender to allow effective moisture drainage and wall drying. View details of
WeepVent
or
CellVent
to see how they can help keep weep holes open and prevent insects from entering the cavity through the weeps.
Download WallDefender's Technical Datasheet
About Mortar Net Solutions
Mortar Net Solutions™, formerly Mortar Net® USA, Ltd. develops, distributes and supports innovative moisture management solutions for masonry construction.
The company was founded in 1992 by Tom Sourlis and Colin Munro. Sourlis has over 25 years of experience as a mason with extensive architectural training from the Illinois Institute of Technology and Munro is a masonry industry expert with over 45 years of experience, including research, teaching, technical consultation, manufacturing, marketing, and contracting. He has guest lectured at several universities. He is a member of AIA, CSI, and The Masonry Society of which he was a past chairman of Committee C-15: Manufactured Masonry Units and is an honorary member of the Bricklayers & Allied Craftsmen International Union. He recently became a Fellow of ASTM and received their Award of Merit.

For other relevant searches, you might want to try: