architecture - engineering - construction
Xypex Supports Earth Day's Mission
Xypex is committed to the challenge of making an important contribution to reducing negative impacts on our climate and natural environment. Green buildings help to protect valuable natural resources and improve our general quality of life.

We continue to support LEED and other green building rating systems that reinforce product quality, corporate responsibility and today's environmental concerns. As an example, Xypex waterproofing was used on the California Academy of Sciences in San Francisco. At the time of construction (completed in 2007), the new Academy received a LEED Platinum certification and is now recognized as one of the world's greenest museums. Xypex crystalline waterproofing helped this building achieve LEED points by eliminating the use of waterproofing membranes in the structures.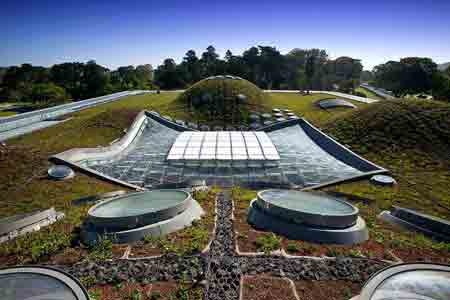 Project Details
California Academy of Sciences
San Francisco, California, USA
The California Academy of Science in San Francisco, California is one of the largest natural history museums in the world. As a result of previous earthquake damage to the original building, plans were made to move the museum to a brand new completely re-designed building which opened to the public in 2008. At the time of construction it was the largest public LEED Platinum-certified building in the world, and also the world's greenest museum. Xypex waterproofing helped this building achieve its platinum rating by allowing for the elimination of waterproofing membranes in the structure.
The foundation is four levels below grade and was constructed using structure shotcrete techniques for placement of the vertical concrete. Both the shotcrete walls and the normally placed slab on ground were treated with 2.5% Xypex Admix C-500 to create a waterproof tank foundation. A drainage layer and weeping tile were installed on the outside of foundation to provide a drain path for water. Xypex Admix C-500 was also used to waterproof all of the water retaining pools and structures within the museum.
The Xypex Crystalline Waterproofing additive was used in more than 4,500 cubic yards of conventional concrete and shotcrete. The use of Xypex Admix C-500 provided a cost effective solution for waterproofing of the structure and water holding features of the California Academy of Science.
APPLICATOR
Dees-Hennessey, Inc.
CONTRACTOR
Webcor Construction / Webcor Concrete
DESIGNER
Gordon H. Chong & Partners
READY MIX PROVIDER
Bodi Gravel; Central Concrete

For other relevant searches, you might want to try: