architecture - engineering - construction
Xypex Used to Extend Service Life of Milner-Gooding Canal
Since its construction in the 1930's the Milner-Gooding Canal has provided vital water to the Farmers in and around Shoshone, ID. Recently a concrete flume on the canal which was showing extensive deterioration due to freeze-thaw attack has been restored with Xypex crystalline waterproofing materials.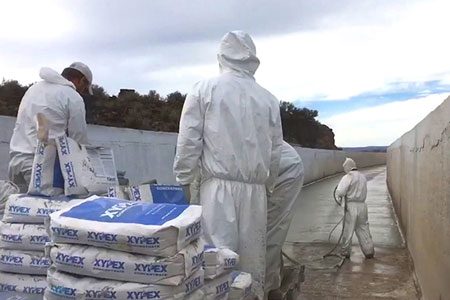 Milner-Gooding Canal, Shoshone, Idaho, USA
The owner, Big Wood Canal Company of Shoshone, Idaho, hired MWH Global who, after thorough analysis determined the flume was still in sound structural condition and did not need replacement with a new structure. Instead they chose Xypex crystalline waterproofing and repair products to restore and waterproof the existing structure to protect it against freeze that damage and extend its service life while saving millions of dollars in the process.

Please watch this two minute video produced using innovative 'Drone' technology to capture the aerial shots of the Milner-Gooding Canal.



The first step in the restoration required extensive high pressure water blasting to remove the decades of lime deposits. Once these were removed and the surfaces were clean, Xypex Megamix II was used to patch badly deteriorated areas before a spray coat application of Xypex Concentrate at a coverage rate of 2 lbs/sq. yd. (1 kg/m2). The application of Xypex products was completed by Guaranteed Waterproofing Company of Salt Lake, Utah in a continuous operation of watering, and coating all along the 2.2 mile long flume. A total surface area 375,000 sq. ft. (35,500 m2) was treated.

For other relevant searches, you might want to try: