architecture - engineering - construction
About Wheels
Wheels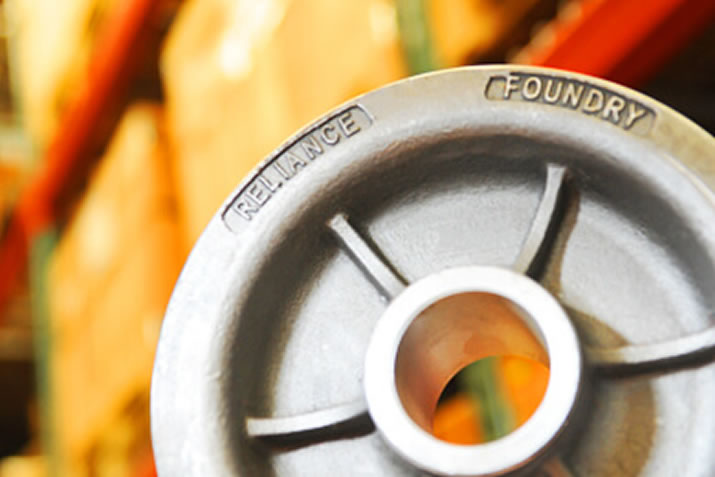 Industrial cart and track wheels available in single or double flanged configurations
Steel cart wheels are suitable for a range of industrial applications. All Reliance Foundry wheels are designed and manufactured to exceed industry norms with the best value and price in mind. Heavy duty wheels are manufactured from cast or forged steel to ensure the highest strength and durability—minimizing time required for maintenance and servicing. Single and double flanged wheels are available. All industrial wheels are kept in-stock and ready for immediate shipment.
---
HEAVY DUTY, METAL WHEELS FOR A VARIETY OF INDUSTRIAL APPLICATIONS
Small rail installations support high-capacity loads with smooth and controlled transferability. Single and double flanged metal wheels are available for commercial and industrial operations—including lumber kilns, material transfer vehicles, marine tracks, cranes and factory or mining carts.
---
Double flanged wheels
Double flanged wheels ensure the best in safety and operations for rails with inconsistent geometries and/or signs of damage or wear. Reliance Foundry's double flanged wheels are designed for use in commercial wood-drying kilns, but many commercial and industrial sites also require double flanges for more secure operations—especially where heavy, high-impact or uneven loading is common. Double flanged wheels are ideal for kilns, cranes, and other industrial loading vehicles. They provide the best means for keeping carts on track for long-term use.
Single flanged wheels
Single flange wheels are ideal for a range of heavy duty commercial and industrial rail carts—often used in the forestry, factory, mining, and offshore loading industries. Wheels can be used for both driven and fixed wheelsets and can be machined to meet specific rail dimensions.
Wheel Comparisons
Compare the critical dimensions and specifications for each of Reliance Foundry's single flanged and double flanged industrial wheels for your project needs. Compare all single and double flanged rail wheels.
Solid steel for heavy duty application
Heavy duty steel cart wheels provide optimal strength and durability for transferring heavy loads safely and efficiently. Compared to cast iron, which is brittle and more susceptible to fracturing, steel offers more elasticity—making it highly resistant to breakage while ensuring minimal wear for both wheels and rails. Inferior metals and/or manufacturing can lead to off-gauge configurations, wheel slippage or hazardous tread wobble—which can also create unnecessary vehicle and track wear.
Using cast or forged steel wheels for heavy industrial loading ensures minimal need for replacement—and fewer service disruptions. All Reliance Foundry wheels are inspected throughout production and are tested to ensure each wheel delivers the utmost in quality and performance.
Custom services
All wheels are manufactured with a standard rough machine finish but can be customized with additional features and machining:
Boring
Bushings (purchase and installation)
Hardening
Machine finishing
Tread profiling
Don't see what you're looking for in our standard, in-stock products? Reliance Foundry will design and manufacture custom wheels for specific applications. Full customization services include consultation, design, prototyping, manufacture, and shipment. Our experienced design staff is available to help identify the most suitable materials, pattern designs and manufacturing processes to ensure the best value and performance based on intended applications and volume requirements. For more information, contact Reliance Foundry's Sales Department.
Safe working loads
All industrial wheel products advertise a safe working load (SWL) to ensure suitability for specific applications. To determine the required load capacity for a wheel within a vehicle assembly:
Identify the total weight of the vehicle and its maximum load.
Add an additional 25 percent of the total weight (vehicle and load) to allow a margin of error.
Divide the total weight including the additional 25 percent by the number of wheels supporting the cart. The resulting number must be lower than the SWL of the wheel you intend to use.
Note: Identifying load requirements in this manner will only determine capacity for a wheel at rest. Other factors such as but not limited to the positioning of a load, travelling speed and other adverse operating conditions can affect wheel performance. For specific operations, an engineer should be consulted to determine suitability.
Fast and convenient shipping
All standard, in-stock products are shipped within 1–3 days from our head office. For specific shipping times, request a formal quote or contact Reliance Foundry's Sales Department.
History of excellence
Reliance Foundry has produced heavy duty wheels for a range of industrial applications in the forestry and mining sectors for more than 90 years. Our knowledge and experience ensure the ongoing quality and dependability of all industrial wheels for lasting performance beyond industry norms.

Brochures | 3-Part CSI specifications | CAD details
05 08 00 - Commissioning of Metals
05 50 00 - Metal Fabrications
05 59 00 - Metal Specialties

For other relevant searches, you might want to try: decorative, metal, bollard, post, covers, pipe, cover, sleeve, steel, posts, architectural, bollards, pipes, sleeves, iron, aluminum.