architecture - engineering - construction
News
2018 Architectural League Prize Winners Address 'Objectivity' in Prestigious Design Competition
For thirty-seven years, The Architectural League of New York has prompted young architects and designers to reflect on an annual theme and submit architectural portfolios that compete for the prestigious Architectural League Prize. The competition program aims to identify and foster the development of promising young architects and designers by providing early opportunities to receive feedback and support from leading architects, and showcase their work through a public exhibition, lectures, and select publications. This week, the League announced a group of winners of diverse backgrounds who all were challenged to imagine what "objectivity" means in a climate of fake news and doctored facts.
"This year's winners responded compellingly to the 2018 competition theme 'Objective,'" says Anne Rieselbach, program director of The Architectural League. "Their work shows the wide-ranging and creative ways that young architects and designers explore the plurality of the meaning of 'objective,'" she says, noting, "from designs that thoughtfully address social, economic, and political agendas to material and structural experimentation that yields new and exciting forms." Hunter Douglas Architectural will be interacting with and tracking the prize-winners and their installations, set to be displayed in June in New York City.

This year's winners are Anya Sirota of Akoaki, based in Detroit; 
Bryony Roberts of Bryony Roberts Studio in New York; Gabriel Cuéllar and Athar Mufreh of Cadaster, out of Brooklyn; Coryn Kempster of Julia Jamrozik and Coryn Kempster in Buffalo;
 Alison Von Glinow and Lap Chi Kwong of Kwong Von Glinow in Chicago; and Dan Spiegel of SAW // Spiegel Aihara Workshop in San Francisco.

The 2018 winners have backgrounds ranging from a focus on performance and architecture, to preservation and territory, to public programming and temporary design installations. From an aesthetic and purpose-driven perspective, their winning interpretations of the competition's theme vary almost as much as their own narratives and interests.

The winners, who must all be ten years or less out of a bachelor's or master's degree program, were selected from a pool of nearly 100 applicants. Each compiled clever and visually compelling explorations of 'Objectivity' in architecture, with many taking a public-facing approach to the theme. They'll all gather in New York to create installations of their work, which will be on view at the Parsons School of Design's Sheila C. Johnson Design Center. The League Prize exhibition launches on June 21, just as national architects convene in Manhattan for the annual American Institute of Architects conference. This event will be accompanied by two evenings of lectures on June 21 and June 22, which give the League's members and the public the opportunity to hear about their design inspirations and goals firsthand.

Rieselbach worked alongside the Young Architects + Design Committee, made up of past League Prize winners, to organize the design competition. Together, they developed the theme of 'Objectivity' and selected a noteworthy group of competition jurors who joined the committee and League organizers in New York to evaluate submissions. The jury included Mexican architect Tatiana Bilbabo, who is currently reimagining affordable and flexible social housing building design through her firm Tatiana Bilba Estudio; Jorge Otero-Pailos, who focuses on experimental preservation through his work as the principal and founder of the art and architecture studio Otero-Pailos Studio; Georgeen Theodore, principal and co-founder of Interboro, which previously won the MoMA PS1 Young Architects Program by using materials in an impactful installation with the intent of later donating them to support community outreach; and Claire Weisz, founding partner of WXY and this year's recipient of AIA New York's top award, the Medal of Honor, for her dedication to public and civic space in urban New York. (WXY helped design Battery Park's Seaglass Carousel — an intriguing and technologically advanced twist on the traditional carnival ride).

Detroit's Anya Sirota founded Akoaki in 2008 with Jean Louis Farges, and examines flexible installations that marry public programming and design in urban contexts. For "My Love For You Burns All the Time," Sirota and Farges exhibited the silver-plated replicas of the industrial remains of Detroit's famous Packard Plant to make a statement on decay and "the value of neglected sites in the collective optic." In addition to working at the firm to reenergize spaces in Detroit, Sirota also serves as an assistant professor of architecture at University of Michigan's Taubman College of Architecture and Urban Planning.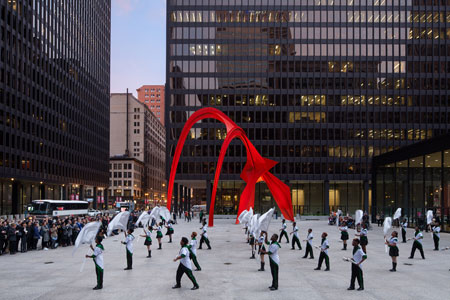 Bryony Roberts Studio in collaboration with the South Shore Drill Team | We Know How to Order, Federal Plaza, Chicago, 2015. Credit: Andrew Bruah

ew York's Bryony Roberts, of Bryony Roberts Studio, merges architecture and performance to create artful experiences in historically significant spaces. Roberts looks at structures in existence and reflects on how they can be transformed to respond to cultural histories and social conditions. Her projects have been featured in 2015's Chicago Architecture Biennial and Performa 17, spanning from Harlem's Marcus Garvey Park to Rome's Piazza del Campidoglio. She also teaches architecture and preservation at Columbia University's Graduate School of Architecture, Planning and Preservation.

Brooklyn's Gabriel Cuéllar and Athar Mufreh, of Cadaster, consider architecture, rehabilitation and preservation through projects including reviving Baptist churches like Saint John Missionary in Houston, and creating urban strategies for municipalities and the New York Canal System. Though the practice was only founded in 2016, one year later Cadaster earned first prize for the City of Quebec's Reinventing Our Rivers urban planning competition.

Buffalo's Coryn Kempster
, of Julia Jamrozik and Coryn Kempster, 
explores the sense of memory in physical space in a wide range of structures – from modernist houses to single-family homes. He worked with Julia Jamrozik to create the playful "Vertical Line Garden" in Québec in 2017, using brightly-hued commercial barrier tape, wood frames and netting with bent metal and canvas lounge chairs to create a contemporary, man-made garden. The idea here was that barrier tape is typically used to mark perimeters and keep trespassers out, but they instead used it to welcome visitors to a spatial garden where the tape responds to environmental conditions like wind and light. Kempster also works as an adjunct assistant professor of architecture at the State University of New York at Buffalo.

Chicago's Alison Von Glinow and Lap Chi Kwong, founded the architecture practice Kwong Von Glinow in 2017. Their mission: "To create architecture for all to enjoy." They strive to reimagine traditional architectural elements and create solutions for public spaces and multifamily housing like their "Tower within a Tower" concept, which won first place in 2017's Hong Kong Pixel Homes Challenge. This proposal relied on verticality to stack apartment spaces, like bathrooms, bedrooms, and kitchens, on top of each other, thus creating an apartment "tower" within an apartment "tower" building and producing a "local neighborhood" on each floor. The concept is, "each resident can rightfully lay the claim 'That's my tower' without sacrificing community." Von Glinow is a part-time professor of architecture at the School of the Art Institute of Chicago, and Kwong teaches as an adjunct professor of architecture at the Illinois Institute of Technology.

San Francisco's Dan Spiegel, of 
SAW // Spiegel Aihara Workshop, brings a connection to landscape into architecture and urban design. The firm created a flexible, mobile retail environment with built-in units called the Try-On Truck. It also worked to redesign San Francisco's A-to-Z House to create a low horizon line and take advantage of the surrounding natural environment with dramatic exposure by scaling, repeating, and manipulating existing structural objects to leave a far more significant impression. Spiegel won last year's AIA San Francisco Award for Architecture and teaches at the University of California, Berkeley, and at California College of the Arts.
URL:
http://blog.hunterdouglasarchitectural.com/2018-architectural-league-prize-winners-address-objectivity-in-prestigious-design-competition/
For other relevant searches, you might want to try: