architecture - engineering - construction
Accuride 3634 and 3634 Easy-Close: Heavy-Duty for Wide Drawers
Models 3634 and 3634EC offer a combination of features and installation advantages that make these products the go-to slides for heavy-duty wide drawers.

Applications include wider drawers and trays used for storage in retail fixtures, restaurants, medical facilities, and business offices, as well as residential kitchens, garages, and more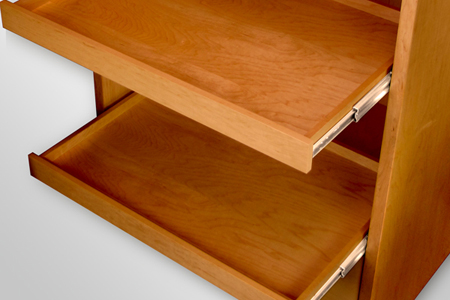 Common Features & Benefits

1" over travel for full access to drawer contents.
Accommodates drawers up to 42" wide to expand potential applications.
.78" cross-section width.
Lever disconnect allows for easier drawer removal and reinsertion.
Outer member hole pattern matches models 3832/3834. The same hole configuration and fastener type are used whether slides are going into a ½" or ¾" side space.
Slides are unhanded, which also helps speed and ease installation.
RoHS compliant
Model 3634EC
Easy-Close feature brings drawers to a smooth, gentle close. This mechanism is a more robust design intended for wider drawers and heavier loads up to 150-lbs.
Out stop silenced for quiet operation.
Model 3634
Includes hold-in detent to help hold drawers in a closed position.
This model carries loads up to 200 lbs. per pair. It can be flat mounted which reduces the load capacity to 75 lbs.
In-and-out stops silenced for quiet operation.
Availability
3634 Easy-Close-14"–28" Note: The 14" length is full extension only.
3634-12"–28"
Both models are available in clear zinc (C) or electroplate black (CB).
Download Specification Sheet

For other relevant searches, you might want to try: