architecture - engineering - construction
SENSEON Secure Access Control System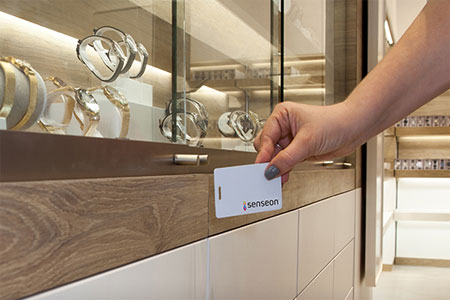 Increase your efficiency, flow, and profits — with effective cabinet-level security.

SENSEON is an innovative new access control system for cabinets, fixtures and furniture that creates exciting new design opportunities. Designed for commercial environments, SENSEON combines style, security and simplicity to create a system that leaves you free to focus on people and profits.

Endless possibilities

SENSEON is a professional total access cabinet control system. A visible or concealed proximity reader enables quick, easy access with the tap of an RFID card, bracelet or fob.

No more fumbling with keys, lost time, or maintenance issues

Whether you're accessing merchandise, life-saving medication, or sensitive documents, SENSEON gives you the security you need without slowing you down. It features the rock-solid reliability you expect from Accuride slides, so you can just "set it and forget it."



Senseon WAVE System
Senseon Wave delivers cabinet-level access control for both commercial cabinet doors and drawers. It protects valuable merchandise, money and important documents for retail, hospitality, healthcare, finance, government and more.
Senseon Wave is easy to use and works in 3 steps:
Signal > Unlock
Open > Close
Auto > Secure
Senseon TOUCH System
In addition to the features that come standard with Senseon Wave, experience greater freedom still with Senseon Touch:
Senseon Touch means design freedom. You can achieve clean cabinet front designs with no visible hardware, yet drawers and doors open easily with a gentle touch and are secure when closed.
About Accuride
Accuride is a global presence with extensive resources, a deep understanding of design and manufacturing, and a reputation as a pioneer in the development of quality movement solutions.

For other relevant searches, you might want to try: