architecture - engineering - construction
News
Allegro Cement Coating
Allegro Cement Coating® is a convenient, cost-effictive and captivating coating for existing stucco.
Don't Paint Stucco — Use Allegro Instead
Whether it's putting the finishing touch on new construction or freshening up the appearance of an existing structure, Allegro is simply superior to paint. Developed by the nation's leading stucco manufacturer, it combines the beauty and durability of a cementitious finish with the ultimate in product quality and convenience.
Maintain Stucco's Natural Properties
Allegro is similar in chemical composition to stucco and forms interlocking bonds with the substrate as it cures. These bonds allow it to retain stucco's breathable qualities that wick water away. Other coatings can be improperly applied and may restrict this attribute.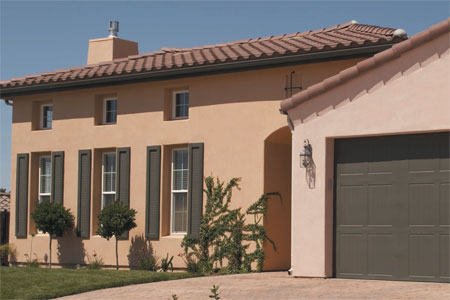 Start Sooner and Finish Faster
Applicators will appreciate the low volatile organic content and the familiar way Allegro handles. It's also a more versatile performer than paint, which makes it more efficient to use from start to finish.
Allegro can be applied over freshly finished walls instead of waiting 28 days for the lower pH needed for paint.
Allegro can be applied with a garden sprayer, airless paint sprayer, paint roller or brush.
Allegro adheres like cement, providing excellent grip but with superior non-sag properties.
Allegro cures faster than paint dries, so a second coat can be applied almost immediately after the first.
Faster start-up and curing means scaffolding can be moved more quicly.
Allegro cures well in humid conditions and can be exposed to rain sooner after application than paint.
Affordable and Cost-Effective
Contractors and homeowners alike will be surprised at how economical Allegro is — especially when clean-up and storage requirements are considered.
Allegro costs less than elastomeric coating or paint designed for use over a paint-grade stucco finish.
Allegro is mixed on-site in only the amount needed, with 1 pound covering 36 square feet.
Manufactured as a powder, Allegro cleans up easily and avoids the mess and storage of half-empty paint cans.
Available in 25 pound bags and resistant to temperature extremes, Allegro can be stored for up to six months.
Enhance the Elegance of Traditional Stucco
Allegro comes in a wide range of 30 standard and 22 Lifestyle colors, including deeper hues than traditional stucco. As a cement-based finish, it also extends the durable qualities that make stucco one of today's preferred cladding materials.
Allegro can be applied over any stucco texture, including unusual cement or dense surfaces like the smooth Santa Barbara Mission Finish.
Allegro won't bridge over existing textures and can be applied without adding an acrylic binder.
Allegro is simple to repair and color match and it provides excellent hiding coverage to rough stucco surfaces.
Longer lasting than paint, Allegro doesn't crack, peel, cause chalkiness, or discolor due to rain.
URL:
http://www.lahabrastucco.com/products.pl
For other relevant searches, you might want to try: