architecture - engineering - construction
Barracuda Intruder Defense System-Model DSO
The Barracuda Intruder Defense System DSO model is the perfect intruder defense system for outward swinging door installations. It's designed to lock down outward swinging vertical doors in a matter of seconds.

Simply position the device so that the bar rests against the door jamb on either side, and the built-in hook grabs the door handle. Note that the specially designed hook works with all types of handles. To secure the device, simply turn the handle until it is snug.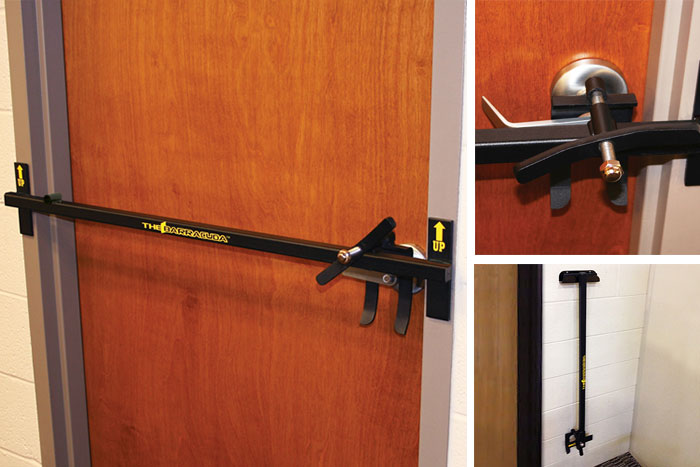 The BILCO Company has teamed up with Troy Lowe, a military veteran and SWAT team member, to manufacture door security devices. Designed based on Lowe's experience as a law enforcement professional and an active-shooter training instructor, these locking devices can be installed in a matter of seconds in emergency situations to protect occupants against building intruders.
Features and Benefits:
Fast and easy; installs in a matter of seconds
Securely locks an entry point in a lock-down situation
Free-standing device (not permanently attached to door). Can be easily transferred to another access point
No maintenance or installation costs required
This intruder defense system for outward swinging door installations is less expensive than locksets and much more secure than small, inexpensive devices
Heavy-duty steel construction
Durable powder coat paint finish
Lightweight for easy positioning
Supplied with convenient wall-mounting rack
Designed for use on 36" wide commercial doors
Barracuda Intruder Defense System DSO is made in America
@TheBilcoCompany #TheBilcoCompany #flooraccess #roofhatches #smokevents #basementdoors

For other relevant searches, you might want to try: