architecture - engineering - construction
Bike Bollards from Reliance Foundry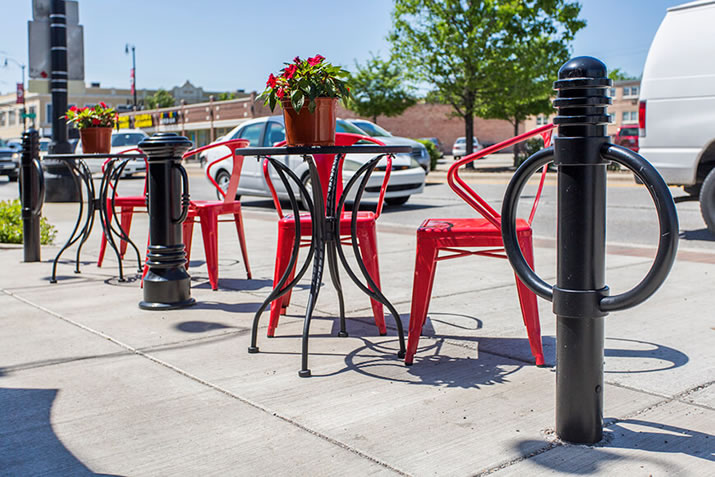 Decorative appeal with better parking security
Bike bollards offer unique, decorative appeal with the benefit of secure bicycle storage. Bike posts minimize clutter and obstruction from improper parking on trees, railings, fences, and outdoor furnishings. Take advantage of sleek, contemporary designs or ornate cast bollards to suit surrounding buildings and landscapes. Most bike bollards can be equipped with bike-locking arms. Arms are available in stainless steel and powder-coated finishes to match bollard styles and to ensure long-term durability.
Bike Bollards For Better Community Spaces
Bike bollards offer simple bike storage solutions for public and commercial outdoor spaces. They are non-intrusive when placed in city spaces and parking lots, and encourage healthier, environmentally-friendly lifestyles. A convenient form of bike parking, bike bollards enhance streetscapes and buildings to accommodate visitors, customers, and employees. They are highly visible and help to direct pedestrian and motor traffic, offering great value for dense urban areas.
Bike Bollard Materials
Bike bollards are made with durable materials for a long service life. Ductile iron and steel bike bollards feature powder coatings to protect against corrosion. Stainless steel bike bollards are made with the highest quality 316 stainless steel.
Ductile iron
Ductile iron offers excellent strength, hardness, and resilience to wear. It is highly castable, allowing for more intricate patterns and ornamentation.
Steel
Steel bollards are made from fabricated steel, customized to suit a range of ornamental and security applications. Due to its strength and durability, steel is one of the most widely used building materials worldwide.
Stainless Steel
Stainless steel is naturally resistant to corrosion and wear. 316 grade stainless steel has the highest resistance to corrosion, and offers a bright, reflective surface for contemporary designs.
Installation Options
Bike bollards require only one installation point—whereas bike racks often require at least two. Some bike bollards can also be used as covers for steel pipe security posts. A range of mounting options are available for bike bollards, including bolt-down flange, in-ground embed, fold-down and removable mountings. Removable mountings offer flexibility in mixed-use spaces. The locking arms can be used as lifting handles for convenient installation and removal. View installation.
@reliancefoundry #reliancefoundry #bollards

For other relevant searches, you might want to try: