architecture - engineering - construction
Bilco Announces Extension of Foundation Plates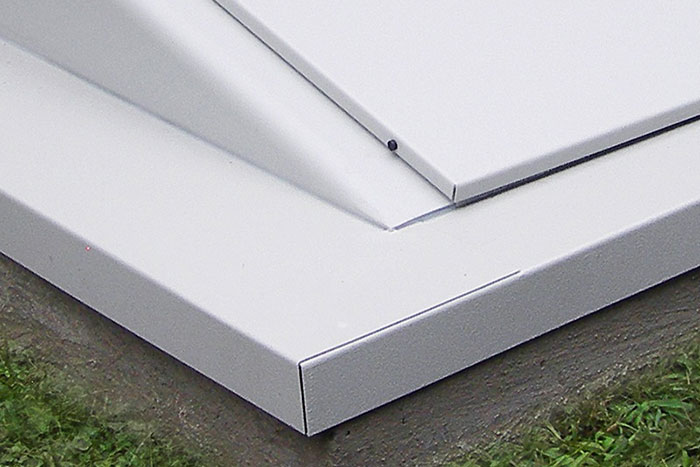 The BILCO Company has announced an enhancement to its line of primed and powder coated foundation plates for basement doors. Effective immediately, all foundation plates will now be manufactured at 84 inches in length to help simplify installation and curb installation costs.

BILCO foundation plates can be used to improve an areaway's appearance, cover rough masonry, reduce the inside areaway width, or for side support in corner installations. They are frequently used in many older homes, where foundation openings are much wider or narrower than standard door widths. Foundation plates can be used in new construction or retrofits.
Formed steel plates are available either with a primed finish or with a factory applied powder coat paint finish in 6 colors. They are offered in widths of 5, 8, 11 and 14 inches.

The longer foundation plate will allow for easier installation. In many applications, splicing, overlapping, or butting separate pieces of plate will no longer be necessary. Use of a single piece will also create a cleaner appearance on jobs requiring basement door extensions. "We evaluated the market and more importantly listened to our customers and installers who requested this change," said Rick Frack, District Sales Manager for BILCO. "We see these new foundation plates as an important time-saving step for our customers and installers."

The 84-inch foundation plates will be offered at the same price as the previously available 72-inch plates. This price stability applies to both standard primed foundation plates and powder coated foundation plates.

BILCO is the industry leader in the design and manufacturing of specialty access products. BILCO has served the building industry since 1926 and has built a solid reputation among builders, engineers and architects for products that are unequaled in design and workmanship.

@TheBilcoCompany #TheBilcoCompany #flooraccess #roofhatches #smokevents #basementdoors

For other relevant searches, you might want to try: