architecture - engineering - construction
News
Broan-Nutone 2014 Ultra Pro Challenge Finalists to compete at 2015 International Builders' Show
Broan-NuTone, the leader in residential ventilation, concluded the 2014 ULTRA Pro™ Challenge on November 21 in Miami. The ULTRA Pro Challenge is a 112-stop nationwide tour to see which contractor can install the ULTRA Pro™ Ventilation Fan the fastest.

This year's competition was divided into eight regions: Southwest, Northwest, Western, Midwest, Mid-Atlantic, Northeast, New England and Southeast. The fastest contractor from each region (listed below) won an all-expenses-paid trip for two to the International Builders' Show (IBS) in Las Vegas in January 2015, where they will compete for the 2014 Ford F150 grand prize.

The ULTRA Pro Challenge, open exclusively to contractors, began on April 21 in Houston. This year, the annual event gave contractors hands-on experience with Broan-NuTone's new ULTRA Pro Ventilation Fan – a revolutionary bathroom ventilation product that installs up to 60 percent faster in retrofits and up to 20 percent faster in new construction than comparable fans, increasing contractors' profitability.

"The ULTRA Pro Challenge strikes the perfect balance between work and play," says contractor Danny Lipford, host, "Today's Homeowner with Danny Lipford." "Contractors can experience firsthand a revolutionary product that will bring value to their businesses, while having some fun with colleagues along the way."

The events were hosted in 32 states by Broan-NuTone distributors and attracted more than 3,600 attendees. Locations included Dallas, Denver, Las Vegas, Pittsburgh, Los Angeles and Sacramento, California. Overall, more than 1,100 contractors competed to install the ULTRA Pro Ventilation Fan in the quickest time possible.

"This year's ULTRA Pro Challenge was a great success," says Richard Palmersheim, group vice president, marketing, Broan-NuTone LLC. "The ULTRA Pro Ventilation Fan was designed for quick and easy installation to save contractors time and money, and we're confident that the 2014 ULTRA Pro Challenge was able to convey those benefits to our contractors in a fun, upbeat environment."

Danny Lipford will host the final competition at IBS on Wed., January 21, 2015, which will take place in two separate groups of four contestants each. The winners of each group will then face off in the final championship, where Lipford will present the grand prize to the contractor with the fastest overall time.

Top Eight Contractors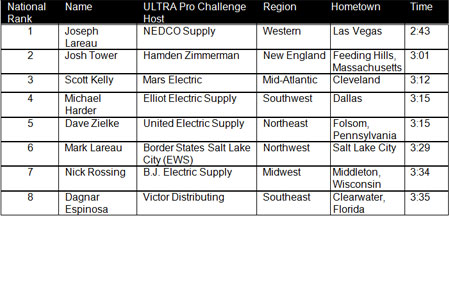 "This annual event allows contractors to test the product before they make a purchase," says Lipford. "That way, they walk away knowing that the ULTRA Pro Ventilation Fan features the fastest, easiest, most universal installation."

The ULTRA Pro Ventilation Fan features a telescoping mounting frame with pre-installed screws that simplify the installation process. Its easy-to-position carriage allows housing location adjustment between joists, enabling full control of ceiling placement. The fan can be placed and fastened through a drywall hole without attic access.

The ULTRA Pro Ventilation Fan is ENERGY STAR® qualified and recognized for its efficient and quiet motor, which can operate down to 0.3 Sones. The fan also features both patent-pending QStream™ technology and new patent-pending QFlow™ technology. The ULTRA Pro Ventilation Fan comes in four models (varying CFM levels) and is available now through local distribution channels.
For other relevant searches, you might want to try: