architecture - engineering - construction
Bulletproof At The Bank: Teller Windows With Cleaner Designs, Hardened Exteriors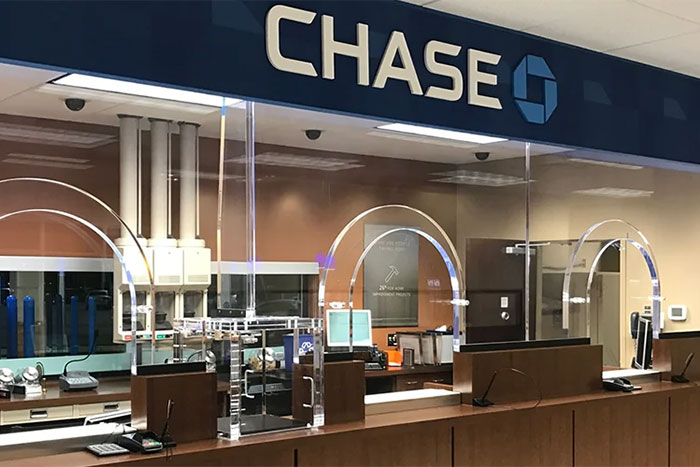 Addressing the physical security of financial institutions means more than just installing secure doors and transaction windows at the teller line. More so than other public spaces, banks demand security systems that take into account not just safety and security, but also aesthetics, banking practices, and public perception. This ends up touching on every element of the security barrier.

For example, the best physical security solution might cause big problems with the HVAC system. A wall of ballistic acrylic will keep tellers safe and deter bank robbers—but it also strains the HVAC and blocks air flow. The result is a lobby full of freezing customers being helped by a row of broiling tellers.

Alternatively, a new set of ballistic teller windows might accommodate HVAC and increase safety—but leave tellers no way to accept deliveries. Or muffle voices so much that business grinds down during busy periods. Or neglect to include an ADA-complaint station.

"We see this a lot," Jim Richards, Total Security Solutions CEO explained, "Because physical security at a bank is this set of overlapping responsibilities, with a huge impact on the building's aesthetics, the building's mechanicals, and everyone's safety. The trick is to make sure that aesthetics, building function, and security are all addressed in a balanced way."
Special Challenges in Bank Safety and Security
When it comes to banks, bulletproof glass occupies the intersection of two important roles for management of a successful financial institution: physical security and facilities. Problems occur when the job of installing the bulletproof glass is handed off to one group without input from the other.

Bank security officers and facility managers need a complete solution when it comes to installing bulletproof glass barriers. It should not be security's job to think of the HVAC, electrical, and other systems when installing what amounts to a transparent, sound-transmitting wall in the middle of a room. Facility managers, who are likely concerned with how a wall of bulletproof glass will affect the building's heating, cooling, and electric, won't necessarily know what UL protection level is required for physical security measures or be familiar enough with bank operations to be sure that a system is specified properly.

"That's a benefit of working with TSS," says Jim Richards. "Over the course of decades we've worked with all these roles within the bank: the facilities people, the architects, the bank security officers. We've dealt with all of the building trades, helping them sort out the details. We know what to look out for and not just follow one perspective on what's important."
Bank Windows that Increase Security and Reduce Maintenance
In 2022, Jim and his team at TSS are seeing some shifts in how banks approach physical security.

"In 2022, we're seeing a lot of security upgrades in existing locations—what we call 'retrofits.' In general, they're favoring a cleaner design overall in their interiors. That tends to make it even more important that the barrier be very unobtrusive, with fewer lines and less framing to catch the eye. They want and need very 'clean' designs in their transaction windows and other security measures."

In some cases, banks are also investing in hardening their exteriors. We saw a lot of plywood on exterior bank windows in 2020 and 2021, especially in major cities. Now some banks are choosing to replace the entire storefront and doors with glass-clad polycarbonate (often called "GCP"). This is a new direction for financial institutions, which have usually chosen to focus on security at the teller line. And, while this comes in the wake of social unrest and protests, it's a mistake to assume that this is purely a security decision.

"Yes, a GCP window will definitely give your bank more protection from some sort of protest or riot. But it's also just practical from a facilities perspective. Compared to other ballistic materials, GCP weathers the elements better. It doesn't yellow or haze or get cloudy after several years of frigid Chicago winters followed by humid Chicago summers."
Barrier Design Trends: "Clean" and Modern Bank Windows
"Traditionally banks were often pretty ornate," Total Security Solutions CEO Jim Richards explains. "So we've always been very good at adjusting what we do to match a given location. That's our specialty, that sort of customization. Even when we're doing many locations for the same chain, in different parts of the country each office looks a little bit different. It's like housing, in that it has this regional component. So we don't try to come up with a single one-size solution we can just keep punching out."

Total Security Solutions isn't limited to just shuffling around prefabricated pieces. They can customize down to the individual component level: curved ballistic transparency, special communication and ventilation solutions, all-glass and completely custom high-security doors, and so on.

Counterintuitively, even as banks shift to a smoother aesthetic with less ornamentation and fewer lines, this attention to detail, fit, and finish becomes even more vital.

This is a good example of the current trend in "clean" bank design:



It looks straightforward, but it takes a great deal of work to make something this simple. The bulk of the window is a single piece of four-by-ten ballistic transparency—the largest possible piece that can be fabricated. That component alone weighed between 300 and 400 pounds. TSS's proven low-tolerance design and manufacturing process was able to fabricate each piece so that it came together on-site nearly seamlessly.
"Invisible" Bank Windows
Boarded up bank windows were a common sight in 2020 and 2021, especially in the Pacific Northwest. Cities like Seattle and Portland have been the sites of clashing protests and surging violent crime rates. For example, homicides in Portland increased 83% from 2019 to 2020. Violent crime—including armed robberies—increased 20% in Seattle in 2021.

In response, some banks have chosen to increase security—without compromising on their service or aesthetics. Here's an example of a recent "invisible barrier" installation in a Washington location where robberies were on the rise:



At a glance, the barrier blends entirely into the background. Customers visiting the week before and week following the installation did not immediately notice the difference. But despite the "light" appearance, this is actually quite a substantial security upgrade.

For example, the countertops, paneling, and half-walls—while they match what was already there—are actually custom bulletproof fiberglass fabricated by TSS. Similarly, the "half doors" at either end are actually full-size doors engineered from clear acrylic. The bottom half of each has then been laminated, so there is complete visibility in the upper half, but a continuous visual field blending the half-wall to the door.

Most importantly, the entire system was installed over a single weekend.

"We've been able to act fast in this region," Jim notes, "and produce some really nice looking systems for [these banks] recently."
Using Transaction Windows to "Modernize" a Space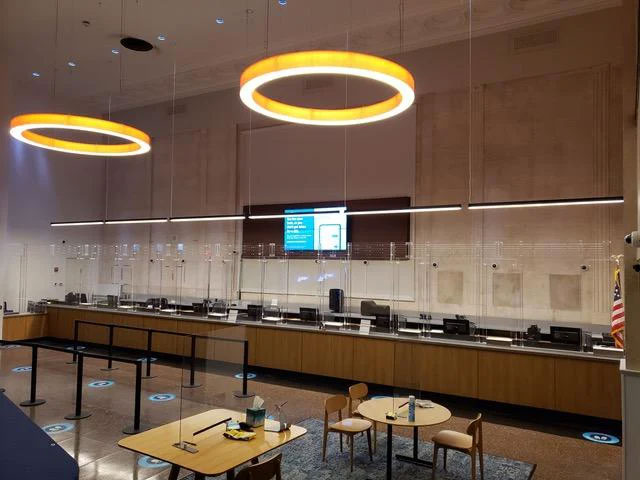 This is another large scale baffle window installation—with 10 teller stations. In this case, the extremely low visual profile is helping to "modernize" a more traditional "marble columns" bank interior.

Especially note the non-ballistic louvered header running above the UL-rated "frameless" ballistic windows. Not only does this multi-piece approach reduce cost, it's also a better solution for the space. The use of louvers reduces the "fishbowl effect" that plague bank teller windows in big marble lobbies, where large spans of bulletproof glass unnaturally muffle and bounce sound.
@TSSBulletProof #TSSBulletProof #bulletproof #healthcaresecurity #security #bulletproofglass

For other relevant searches, you might want to try: