architecture - engineering - construction
Case Study: Ryerson University Centre for Urban Innovation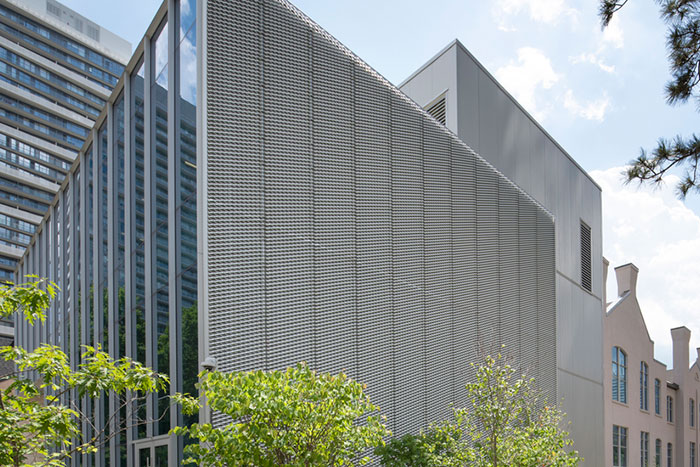 Challenge
Ryerson University's Centre for Urban Innovation is focused on forward-thinking research, aimed at sustainability, energy efficiency and improving infrastructure. These principles had to be incorporated in the blending of a historic building with a brand-new structure. The 130-year-old building's labs were marked for preservation from the start with a vision to incorporate new additions, joined together in a common space.
The Centre for Urban Innovation required optimal energy efficiency and green building techniques. It was a necessity for all materials used to have superior fireproofing, especially in areas with dedicated research labs.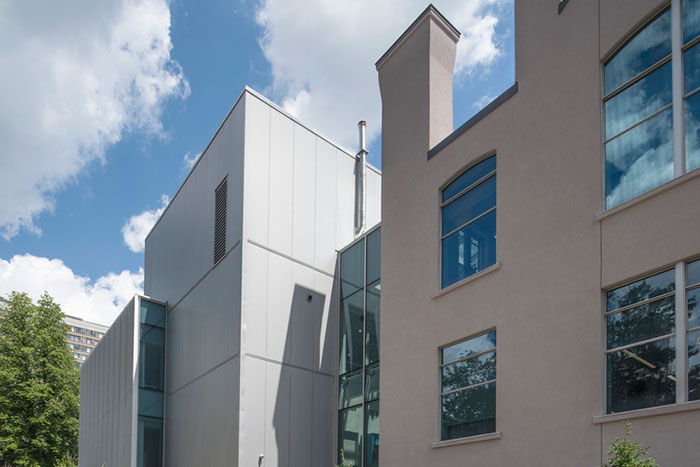 Solution
Architects preserved the heritage building's lecture halls and lab space, while adding two additions that are joined together by a four-story atrium. The 64,260-square-foot space features a modern design, accentuated by 27,000 square feet of insulated metal panels.
Kingspan's MF Fire Rated Wall Panels with a Micro-Rib profile were selected as they provide a fire resistive rating of up to three hours – important in a scientific lab environment.
KarrierPanel, an exterior envelope cladding system, was also installed in Ryerson University, serving as the building's primary weather barrier and exterior insulation. KarrierPanel also serves practical purposes to achieve Ryerson's sustainability and safety goals. The building envelope provides superior R-value, low thermal bridging and air tightness to improve energy efficiency.
Influence
Cutting carbon was a goal for the Centre For Urban Innovation before the doors even opened. Insulated metal panels were a component of an environmentally friendly construction process that included sorting materials to be reused instead of sent to the landfill.
The building features other energy efficient systems, like state-of-the-art HVAC, LED lighting, green roofs, rainfall collection system and low-flow faucets. All of these measures help reduce carbon emissions for a building that serves as a showcase for advances in green technology.
#Morin #MetalWall #MetalRoof #WallSystem #RoofSystem #MetalPanel

For other relevant searches, you might want to try: