architecture - engineering - construction
About ACOUSTICAL CEILING TILES & PANELS
ACOUSTICAL CEILING TILES & PANELS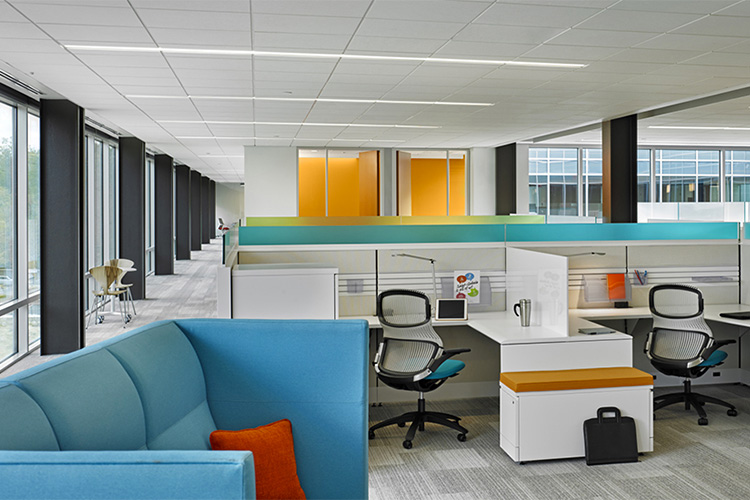 FIND THE RIGHT ACOUSTIC SOLUTION FOR YOUR PROJECT
CertainTeed Ceiling Panels include a wide range of acoustic performances, visuals, and sizes. Whether your project requires superior sound absorption, noise blocking or a combination of both, CertainTeed offers a full spectrum of best-in-class solutions to fit any budget.
EXPLORE OUR EXTENSIVE PORTFOLIO OF INNOVATIVE CEILINGS SOLUTIONS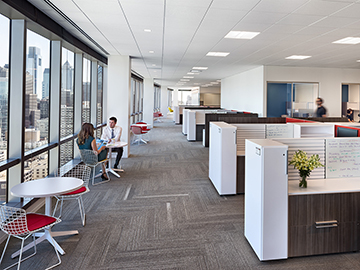 Our portfolio of high-performance, smooth acoustical ceilings includes Symphony and Ecophon Focus.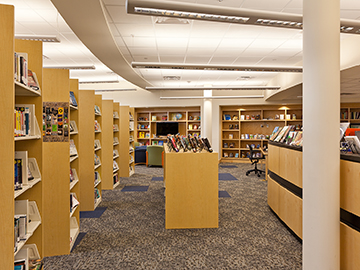 A full spectrum of fissured solutions in an array of visuals and a variety of price points, all with superior cutability.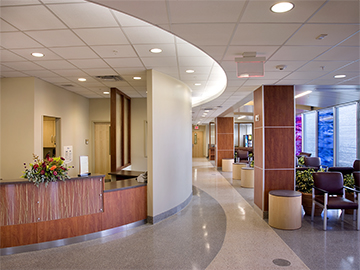 Textured panels add visual interest combining an upscale aesthetic with superior sound absorption.
You're picturing a clean, smooth ceiling. Pick a panel to save the budget and you'll compromise acoustics. Pick the best acoustic panel and you'll blow the budget. There's another option: Targeted Acoustics. Put high-performance acoustic panels where you need them and more economic ceiling tiles where you don't – all while keeping that clean, smooth visual across the space.
THE RIGHT CEILING FOR THE SPACE
CertainTeed Ceilings makes it easy to spec the right ceiling for the space, acoustically, aesthetically and affordably. Find the most versatile ceiling solutions and optimize your design with limitless options.

Brochures | 3-Part CSI specifications | CAD details
09 01 50 - Maintenance of Ceilings
09 01 50.91 - Ceiling Restoration
09 06 50 - Schedules for Ceilings
09 50 00 - Ceilings
09 51 00 - Acoustical Ceilings
09 51 13 - Acoustical Panel Ceilings
09 51 14 - Acoustical Fabric-Faced Panel Ceilings
09 51 23 - Acoustical Tile Ceilings
09 51 26 - Acoustical Wood Ceilings
09 51 33 - Acoustical Metal Pan Ceilings
09 51 33.13 - Acoustical Snap-in Metal Pan Ceilings
09 51 53 - Direct-Applied Acoustical Ceilings
09 53 00 - Acoustical Ceiling Suspension Assemblies
09 53 13 - Curved Profile Ceiling Suspension Assemblies
09 53 23 - Metal Acoustical Ceiling Suspension Assemblies
09 53 33 - Plastic Acoustical Ceiling Suspension Assemblies
09 54 00 - Specialty Ceilings
09 54 13 - Open Metal Mesh Ceilings
09 54 16 - Luminous Ceilings
09 54 19 - Mirror Panel Ceilings
09 54 23 - Linear Metal Ceilings
09 54 26 - Linear Wood Ceilings
09 54 33 - Decorative Panel Ceilings
09 54 43 - Stretched-Fabric Ceiling Systems
09 54 46 - Fabric-Wrapped Ceiling Panels
09 54 53 - Fiberglass Reinforced Panel Ceilings
09 56 00 - Textured Ceilings
09 56 13 - Gypsum-Panel Textured Ceilings
09 56 16 - Metal-Panel Textured Ceilings
09 57 00 - Special Function Ceilings
09 57 53 - Security Ceiling Assemblies
09 58 00 - Integrated Ceiling Assemblies
09 83 16 - Acoustic Ceiling Coating
09 84 36 - Sound-Absorbing Ceiling Units
11 34 00 - Residential Ceiling Fans
23 32 33 - Air-Distribution Ceiling Plenums
23 82 39.19 - Wall and Ceiling Unit Heaters