architecture - engineering - construction
About Gyptone
Gyptone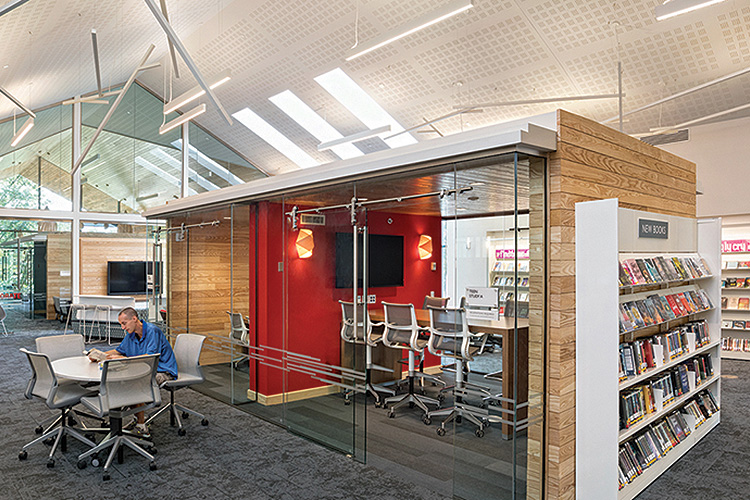 GYPTONE BIG: PERFORATED ACOUSTICAL GYPSUM
Large-scale, perforated, acoustical gypsum panels offer a truly distinct acoustic solution coupled with a variety of unique perforation patterns. Gyptone® BIG™ and BIG™ Curve panels both absorb sound through a pattern of perforations and reflect it from a gypsum surface, allowing speech to carry and keeping sound live in the space without being distorted by echo or background noise.
EXPAND YOUR DESIGN TOOLKIT
DESIGN FOR DRAMA AND PERFORMANCE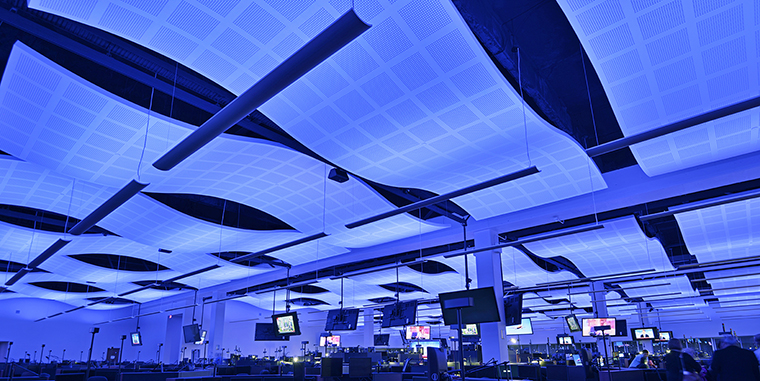 CertainTeed Ceilings Gyptone BIG Curve delivers serious design impact and sound absorption for the Southwest Airlines Networking Operations Control center without the cost or time of custom fabrication.
DISTINCTIVE DESIGN MEETS ACOUSTIC EXCELLENCE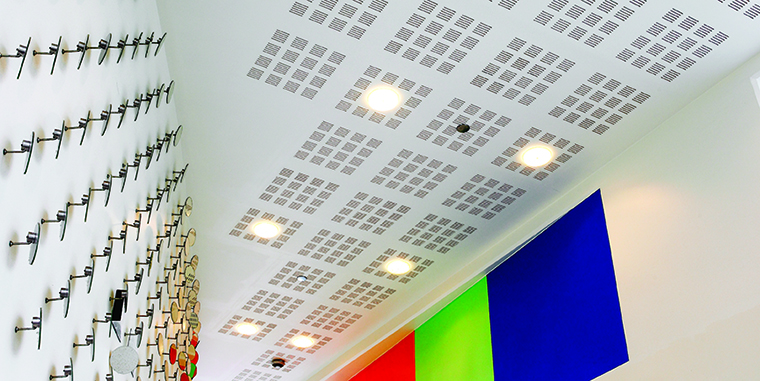 Engage the eye and ear with CertainTeed's proprietary acoustical gypsum solutions. Boasting exceptional acoustic performance, panels feature tapered edges, and a paintable surface. Choose from a variety of perforated patterns, to experience the ultimate design flexibility.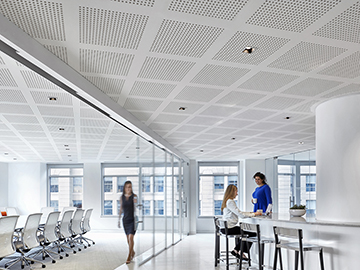 Create dramatic looks with beautiful large-format perforated gypsum panels. Available in a range of perforated patterns, each panel features a paintable surface and is installed and finished like a standard drywall ceiling.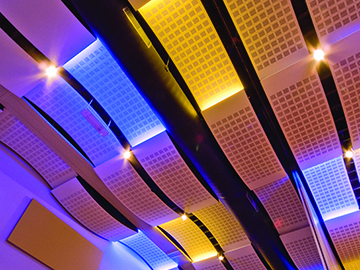 A gypsum ceiling panel option for big imaginations and dramatic designs. Available in three perforated patterns, each surface smooth and paintable. Ideal for auditoriums, public lobbies, airports and other large spaces.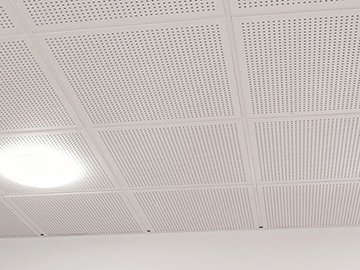 Combine a unique aesthetic with easy installation and easy access. Sag resistant and sound absorbent panels install quickly into a standard suspension grid. Ideal for offices, schools, hotels and resorts.

Brochures | 3-Part CSI specifications | CAD details
09 01 50 - Maintenance of Ceilings
09 01 50.91 - Ceiling Restoration
09 06 50 - Schedules for Ceilings
09 50 00 - Ceilings
09 51 00 - Acoustical Ceilings
09 51 13 - Acoustical Panel Ceilings
09 51 14 - Acoustical Fabric-Faced Panel Ceilings
09 51 23 - Acoustical Tile Ceilings
09 51 26 - Acoustical Wood Ceilings
09 51 33 - Acoustical Metal Pan Ceilings
09 51 33.13 - Acoustical Snap-in Metal Pan Ceilings
09 51 53 - Direct-Applied Acoustical Ceilings
09 53 00 - Acoustical Ceiling Suspension Assemblies
09 53 13 - Curved Profile Ceiling Suspension Assemblies
09 53 23 - Metal Acoustical Ceiling Suspension Assemblies
09 53 33 - Plastic Acoustical Ceiling Suspension Assemblies
09 54 00 - Specialty Ceilings
09 54 13 - Open Metal Mesh Ceilings
09 54 16 - Luminous Ceilings
09 54 19 - Mirror Panel Ceilings
09 54 23 - Linear Metal Ceilings
09 54 26 - Linear Wood Ceilings
09 54 33 - Decorative Panel Ceilings
09 54 43 - Stretched-Fabric Ceiling Systems
09 54 46 - Fabric-Wrapped Ceiling Panels
09 54 53 - Fiberglass Reinforced Panel Ceilings
09 56 00 - Textured Ceilings
09 56 13 - Gypsum-Panel Textured Ceilings
09 56 16 - Metal-Panel Textured Ceilings
09 57 00 - Special Function Ceilings
09 57 53 - Security Ceiling Assemblies
09 58 00 - Integrated Ceiling Assemblies
09 83 16 - Acoustic Ceiling Coating
09 84 36 - Sound-Absorbing Ceiling Units
11 34 00 - Residential Ceiling Fans
23 32 33 - Air-Distribution Ceiling Plenums
23 82 39.19 - Wall and Ceiling Unit Heaters