architecture - engineering - construction
About Hunter Douglas Techstyle® Ceilings
Hunter Douglas Techstyle® Ceilings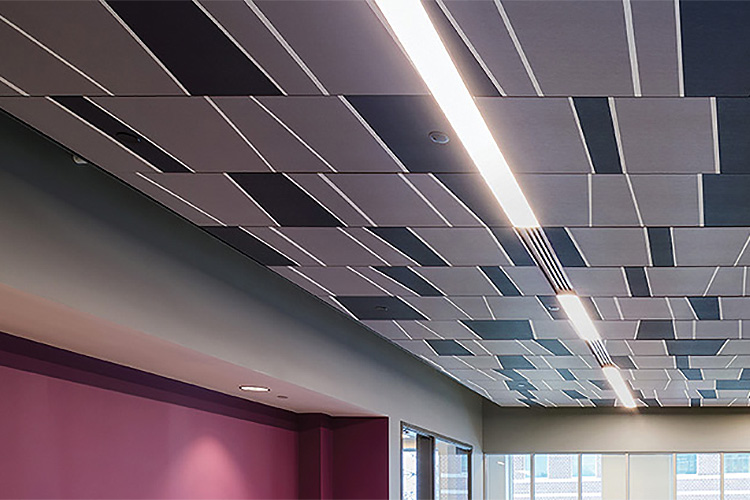 TECHSTYLE® CEILINGS: NEXT GEN ACOUSTICAL PANELS
When our product developers invented a superior acoustical panel constructed on an ultra-flat, honeycomb core, we introduced it as the solution for a white monolithic plane. A decade later, the market has showed us Techstyle panels can be re-sized, re-colored, and re-imagined into acoustic ceilings and walls of virtually any type.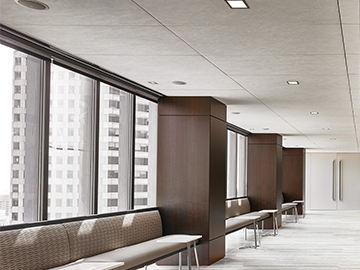 White acoustical ceiling panels feature a clean, white aesthetic with the modern lines of large format panels.
Colors deliver both sound and vision, combining acoustical performance with an extensive palette, including hues from major paint manufacturers.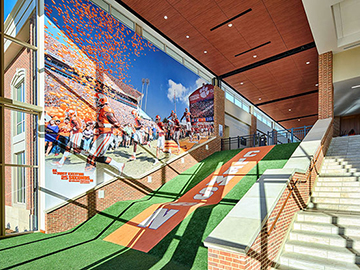 Wood panels apply sophisticated hardwood and exotic surface patterns to a flat, feather-weight honeycomb core.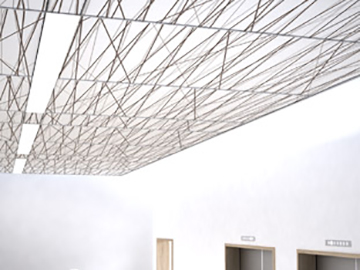 Graphic panels offer a selection of organic, abstract and geometric designs created specifically for the ceiling plane.
Texture panels capture the appearance of stone, leather, stucco, and plaster, each available in an unlimited array of hues.

Brochures | 3-Part CSI specifications | CAD details
09 01 50 - Maintenance of Ceilings
09 01 50.91 - Ceiling Restoration
09 06 50 - Schedules for Ceilings
09 50 00 - Ceilings
09 51 00 - Acoustical Ceilings
09 51 13 - Acoustical Panel Ceilings
09 51 14 - Acoustical Fabric-Faced Panel Ceilings
09 51 23 - Acoustical Tile Ceilings
09 51 26 - Acoustical Wood Ceilings
09 51 33 - Acoustical Metal Pan Ceilings
09 51 33.13 - Acoustical Snap-in Metal Pan Ceilings
09 51 53 - Direct-Applied Acoustical Ceilings
09 53 00 - Acoustical Ceiling Suspension Assemblies
09 53 13 - Curved Profile Ceiling Suspension Assemblies
09 53 23 - Metal Acoustical Ceiling Suspension Assemblies
09 53 33 - Plastic Acoustical Ceiling Suspension Assemblies
09 54 00 - Specialty Ceilings
09 54 13 - Open Metal Mesh Ceilings
09 54 16 - Luminous Ceilings
09 54 19 - Mirror Panel Ceilings
09 54 23 - Linear Metal Ceilings
09 54 26 - Linear Wood Ceilings
09 54 33 - Decorative Panel Ceilings
09 54 43 - Stretched-Fabric Ceiling Systems
09 54 46 - Fabric-Wrapped Ceiling Panels
09 54 53 - Fiberglass Reinforced Panel Ceilings
09 56 00 - Textured Ceilings
09 56 13 - Gypsum-Panel Textured Ceilings
09 56 16 - Metal-Panel Textured Ceilings
09 57 00 - Special Function Ceilings
09 57 53 - Security Ceiling Assemblies
09 58 00 - Integrated Ceiling Assemblies
09 83 16 - Acoustic Ceiling Coating
09 84 36 - Sound-Absorbing Ceiling Units
11 34 00 - Residential Ceiling Fans
23 32 33 - Air-Distribution Ceiling Plenums
23 82 39.19 - Wall and Ceiling Unit Heaters