architecture - engineering - construction
About SPECIALTY CEILINGS & WALLS
SPECIALTY CEILINGS & WALLS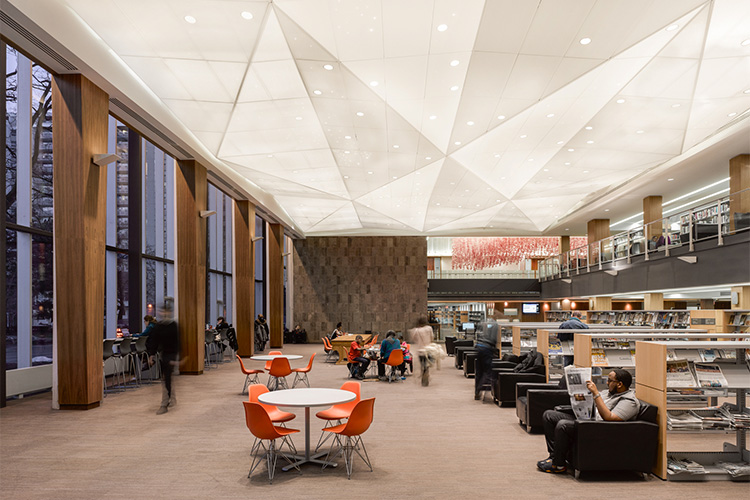 EMBRACE DESIGN DRAMA WITH SPECIALTY CEILINGS AND WALLS
CertainTeed offers a world of creative possibility that can help transform a space into something sculptural and stunning. Our portfolio of innovative specialty solutions includes dynamic metal, colorful fiberglass clouds and baffles, eco-friendly acoustical felt, translucent back-lit panels, natural wood, and the unexpected visual texture of perforated acoustical gypsum.
Whether the goal is architectural impact alone or acoustical performance, enjoy design freedom and flexibility with CertainTeed Ceilings.
A BROAD PORTFOLIO OF SPECIALTY SOLUTIONS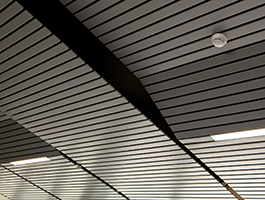 Panels, planks, linear systems and interior and exterior solutions in a full range of finishes, from custom colors to wood looks to natural veneers.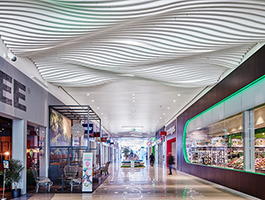 Floating clouds and vertical baffles combine design drama with acoustic comfort in an array of lightweight architectural forms.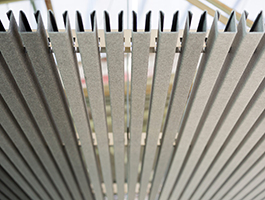 Crisp linearity meets the warm texture and acoustic control of felt in this award-winning innovation, available in 2 versatile color families.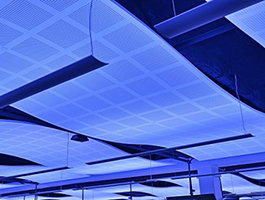 Large scale perforated gypsum panels create a truly unique design element, while also offering superior acoustic control.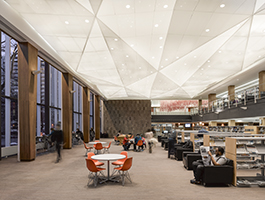 Use these ultra-light next-gen acoustical panels to create custom ceiling designs with color, texture, graphic patterns and wood looks.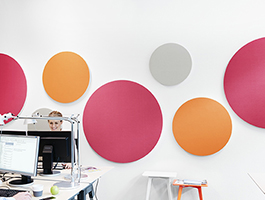 Distinctive accent or seamless transition, our systems let you place panels, planks and tiles above or around the perimeter of the space.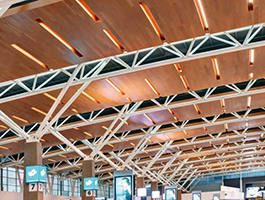 Acoustic artistry for high-impact spaces. Fully custom engineered acoustic solutions designed to transcend the predictable and assume the shape of imagination.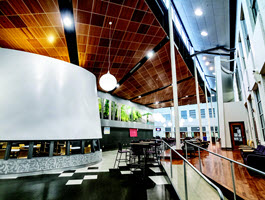 A diverse portfolio of finely crafted wood ceiling and wall designs, including prefabricated beams and large-format systems with custom stains, sizes, shapes and cutouts available.
ELEMENTS OF ACOUSTICAL DESIGN
Reimagine open space design. Alternatives to traditional suspended panel and grid ceilings inspire with diversity in shape, color, space and form.

Brochures | 3-Part CSI specifications | CAD details
09 01 50 - Maintenance of Ceilings
09 01 50.91 - Ceiling Restoration
09 06 50 - Schedules for Ceilings
09 50 00 - Ceilings
09 51 00 - Acoustical Ceilings
09 51 13 - Acoustical Panel Ceilings
09 51 14 - Acoustical Fabric-Faced Panel Ceilings
09 51 23 - Acoustical Tile Ceilings
09 51 26 - Acoustical Wood Ceilings
09 51 33 - Acoustical Metal Pan Ceilings
09 51 33.13 - Acoustical Snap-in Metal Pan Ceilings
09 51 53 - Direct-Applied Acoustical Ceilings
09 53 00 - Acoustical Ceiling Suspension Assemblies
09 53 13 - Curved Profile Ceiling Suspension Assemblies
09 53 23 - Metal Acoustical Ceiling Suspension Assemblies
09 53 33 - Plastic Acoustical Ceiling Suspension Assemblies
09 54 00 - Specialty Ceilings
09 54 13 - Open Metal Mesh Ceilings
09 54 16 - Luminous Ceilings
09 54 19 - Mirror Panel Ceilings
09 54 23 - Linear Metal Ceilings
09 54 26 - Linear Wood Ceilings
09 54 33 - Decorative Panel Ceilings
09 54 43 - Stretched-Fabric Ceiling Systems
09 54 46 - Fabric-Wrapped Ceiling Panels
09 54 53 - Fiberglass Reinforced Panel Ceilings
09 56 00 - Textured Ceilings
09 56 13 - Gypsum-Panel Textured Ceilings
09 56 16 - Metal-Panel Textured Ceilings
09 57 00 - Special Function Ceilings
09 57 53 - Security Ceiling Assemblies
09 58 00 - Integrated Ceiling Assemblies
09 83 16 - Acoustic Ceiling Coating
09 84 36 - Sound-Absorbing Ceiling Units
11 34 00 - Residential Ceiling Fans
23 32 33 - Air-Distribution Ceiling Plenums
23 82 39.19 - Wall and Ceiling Unit Heaters