architecture - engineering - construction
About Custom Metal Fabrication Products
Custom Metal Fabrication Products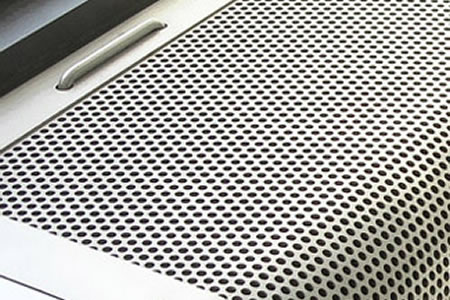 For more than a century, as a metal fabrication company, Coco Architectural Grilles & Metalcraft has perfected the art of custom metal fabrication. While honoring the time-proven techniques, our company also works with the most advanced technology available. As a result, we are able to cater to just about any customer need.
Because of our extensive experience with unique projects, we are able to offer you virtually unrestricted metal fabrication options. If your design concept calls for a unique grille pattern, a laser cut wood perforated grille, or a bar grille with a radius to match a curved wall, Coco Architectural Grilles & Metalcraft is able to provide a solution for your specific project.
Custom stainless steel products are also among our offerings. Stainless steel's resistance to corrosion and staining, low maintenance and familiar lustre make it an ideal material for many applications, and if you design it we can fabricate it.
Laser and Water Jet Cutting technology allows our expert metal crafters to tackle even the most intricate patterns or toughest metals including steel. It greatly enhances our versatility as we eliminate preconceived notions of what is possible in metal fabrication.
Custom Metal fabrication Products
In addition to our distinctive Metal Grilles, our experience also includes custom metal products such as:
convector enclosures
wall panels
kick plates
desks, tables,
consoles
handles & pulls
headers & jambs
ornamental trim
access doors
railings
cladding
brake formed profiles
extrusions
louvers
tree grates
signage
retail displays
column covers
trench boxes
precision sheet metal
corner guards
Our custom products come in a variety of metals including:
Aluminum
Brass,
Bronze
Stainless Steel
Steel
Our finish options include, but are not limited to, antiqued, brushed, painted as well as satin and mirror finishes.
Like the Linear Bar Grilles and Perforated Grilles offered by Coco Architectural Grilles & Metalcraft, our custom metal products are manufactured with the same benchmark standard of excellence and our undying commitment to total customer satisfaction.
For inspiration, please see our catalogue options.

News archive:
Custom Metal Grilles (Jul 22, 2018)
Custom Metal Grilles (Apr 09, 2017)
Custom Metal Grilles (Aug 15, 2014)
02820 - Fences and Gate
05500 - Metal Fabrication
05700 - Ornamental Metal
07610 - Sheet Metal Roofing
08250 - Preassembled Wood and Plastic Door and Frame Unit
08310 - Access Doors and Panel
08700 - Hardware
10240 - Grilles and Screen
11420 - Food Cooking Equipment
12490 - Window Treatment
15810 - Duct
05 50 00 - Metal Fabrications
05 70 00 - Decorative Metal
07 41 00 - Roof Panels
07 61 00 - Sheet Metal Roofing
08 17 00 - Integrated Door Opening Assemblies
08 70 00 - Hardware
10 82 00 - Grilles and Screens
11 44 00 - Food Cooking Equipment
12 20 00 - Window Treatments
23 31 00 - HVAC Ducts and Casings
23 31 13 - Metal Ducts
23 31 16 - Nonmetal Ducts
32 31 00 - Fences and Gates