architecture - engineering - construction
About Perforated Metal Grilles
Perforated Metal Grilles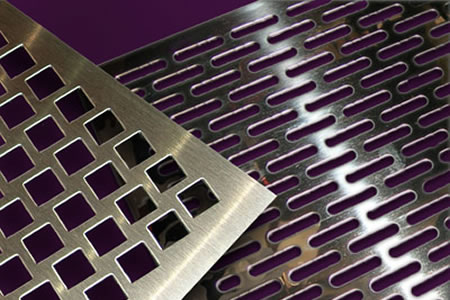 Coco Architectural Grilles & Metalcraft offers an extensive line of Decorative Perforated Grilles that encompasses the same characteristics our customers expect from our Linear Bar Grilles: aesthetical quality, performance criterion and installation features. What makes the Perforated Grille choices even more distinct, is that they range in design from simple to decorative, definitive to stylish, and vintage to modern. If you are seeking an architectural accent, a match for a historical renovation, or simply an ornamental metal addition to an existing unit, our decorative Grille patterns offer you the flexibility to achieve the perfect solution. Your Decorative Metal Grilles may require access doors, concealed fastening, welded support bars, or installation hardware with a matching finish. No matter the need, our metal grille manufacturing experts are on staff to assist you.
Custom Decorative Metal Grille Options
Coco Architectural Grilles & Metalcraft offers a plethora of custom Decorative Grille offerings limited only by your imagination. We also offer several popular material options including:
Aluminum
Brass
Bronze
Stainless Steel
Steel
The aluminum Perforated Grilles can be supplied in a satin, mirror polish, clear anodize, anodized color, baked enamel color (liquid or powder coat), and a primed finish for field painting. Our brass and bronze Perforated Grilles are not only furnished in satin and mirror polished finishes, but also in several shades of statuary bronze, antiqued, and blackened bronze. Stainless steel Perforated Grille options are available in satin and mirror polish or they can be prepped for plating. Steel decorative grilles can also be prepped for a secondary plating process but they are also available in a primed finish or baked enamel colors.
Please see our catalogue for a full list of options for your perforated decorative metal needs

News archive:
Lattice Decorative Metal Grilles from Coco Architectural Grilles & Metalcraft (Jan 25, 2022)
Lattice Decorative Metal Grilles from Coco Architectural Grilles & Metalcraft (Jul 15, 2019)
Perforated Metal Sheets & Grilles (Jul 08, 2017)
Perforated Metal Sheets & Grilles (Jun 06, 2016)
02820 - Fences and Gate
05700 - Ornamental Metal
08250 - Preassembled Wood and Plastic Door and Frame Unit
08310 - Access Doors and Panel
08700 - Hardware
10240 - Grilles and Screen
12490 - Window Treatment
05 70 00 - Decorative Metal
08 17 00 - Integrated Door Opening Assemblies
08 70 00 - Hardware
10 82 00 - Grilles and Screens
12 20 00 - Window Treatments
32 31 00 - Fences and Gates