architecture - engineering - construction
Concrete Staining
Painting the surface of concrete might seem like an easy fix to upgrade the appearance of your property and cover up flaws, but paint chips and fades away, especially on a porous substrate like concrete. That's why concrete staining is the best solution to upgrade the appearance of concrete! Concrete stains penetrate deep into the pores of the concrete in a way that paint can't, producing a more permanent color. Concrete stains range in colors, from translucent to opaque, giving clients a variety of options and effects for their concrete.

Staining concrete is not always an easy DIY project. With concrete stains, you have one chance to get it right, so call the experts at Nawkaw to make sure your project is done correctly the first time!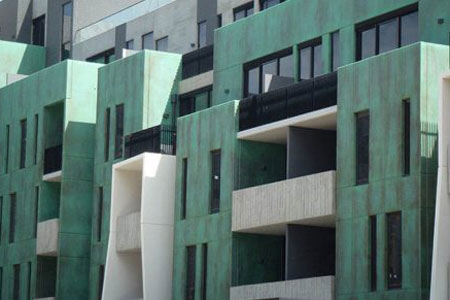 CONCRETE STAIN
If you're looking for the best concrete staining services in the industry, call the experts at Nawkaw!
When it comes to staining or tinting your concrete, make sure you use a product and a service that will last! Here at Nawkaw, we not only manufacture great products, but we train great professionals to be able to apply these products with expertise to concrete and similar substrates.
Concrete staining vs. concrete painting
If you're looking to restore your concrete in a long-lasting way, concrete staining is your best solution. Concrete painting only covers the outer surface of concrete, and can trap moisture underneath the treated surfaces. This not only means that the paint can chip off and fade away after a few years, but it can also cause structural damage to the concrete itself. Our Nawkaw stains penetrate deeper than paint by binding to the substrate in order to create a long-lasting, and non-damaging effect! For the most effective and efficient results—contact Nawkaw!
Looking to keep the surface texture of your concrete while also changing its color? Consider tinting your concrete in a translucent color with Nawkaw's quality stains! This allows for the concrete to be tinted a different color without losing the look and feel of the original texture!

For other relevant searches, you might want to try: