architecture - engineering - construction
NawTone-K Mineral Stain
NawTone-K is mineral stain that uses silicate as a binding agent to form a permanent chemical bond with substrates. The addition of lightfast, inorganic pigments enables a wide range of colors to be produced. NawTone-K exhibits the overall characteristics of being: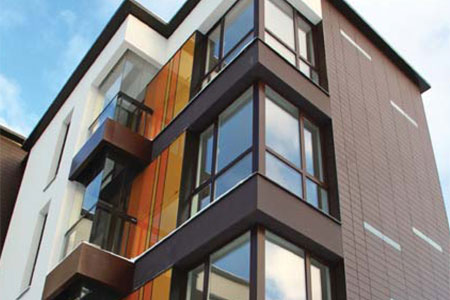 UV resistant
aspiratory
weather resistant
lightfast - durable
mold & mildew resistant
penetrating
odorless
environmentally friendly
NawTone-K can be diluted with NawThinz-C for concrete surfaces or with NawThinz-M for masonry surfaces to create color-wash, semi-transparent, or opaque finishes. Our customized application techniques make NawTone-K a superior choice for new construction, renovation, restoration, and preservation.
Because NawTone-K chemically binds with concrete, it is ideal for use on precast and tilt-up projects. NawTone-K offers consistent color solutions for complete color changes, decorative applications, and solving color problems. This product is also very effective for blending away color variations that naturally occur in the manufacture of concrete. This includes blending away unsightly or mismatching patch repairs and skim coat finishes.
Environmental & Safety Concerns NawTone-K is water-based, nonflammable, nonhazardous and has Zero VOC content. Use of this product may help your projects qualify for L.E.E.D credits.

For other relevant searches, you might want to try: