architecture - engineering - construction
Crash-Rated Bollards Protect High-Target Sites Against Vehicle Attack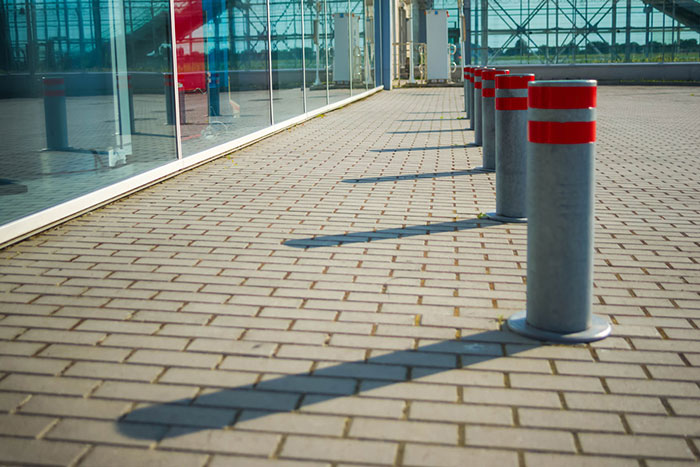 Look around in almost any urban setting and you'll spot bollards: short, adaptable posts that guide traffic away from pedestrians and property, often adding architectural flair to the landscape. When made of concrete-filled steel pipe, and installed securely, these guideposts also stand guard, catching the impact of vehicles that have left the roadway. When planning the perimeter around a building, architects and engineers will consider bollards as part of their security plans.

Depending on the site, this plan may include a variety of types of security bollard. High-impact or safety bollards are relatively inexpensive ways to provide perimeter protection against recklessness or accident. For sites that are protecting against concerted criminal attack, a planner might include crash- or k-rated bollards, which are also commonly known as anti-ram bollards.

HIGH-IMPACT BOLLARDS
Safety or high-impact bollards are the antecedent of anti-terrorist bollards. They've been part of the urban landscape for traffic guidance and asset protection for centuries. Early forms of security bollards were simple posts placed in front of stonework to prevent carriage wheels from rubbing and damaging the building, but as vehicles became more highly powered, the engineering behind bollards developed as well.
Today, most high-impact installations consist of steel posts filled with concrete, installed to help mitigate damage to people or property in the event of an accident. Depending on average traffic conditions around these bollards, they are available in different diameters, providing different levels of impact resistance.
@reliancefoundry #reliancefoundry #bollards

For other relevant searches, you might want to try: