architecture - engineering - construction
Creative Home Office Design Ideas That Will Inspire Productivity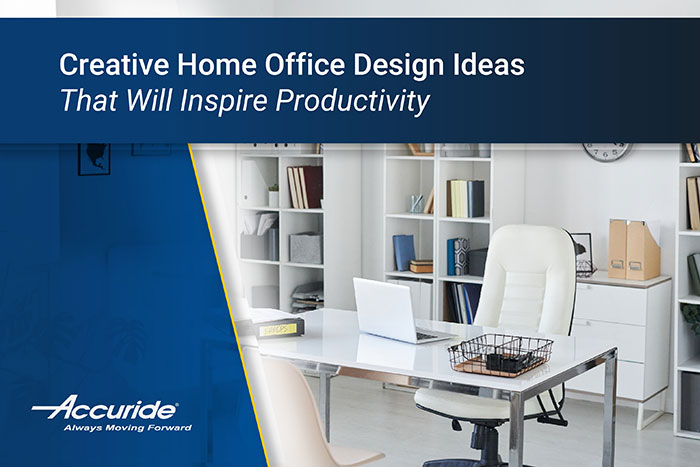 Transform Your Space into a Functional and Organized Home Office with These Creative Ideas
Your surroundings have a sizable impact on how you think, feel, and work. In fact, some studies have shown that a messy and disorganized environment leads to procrastination. For those struggling to be productive while working from home, creating an organized home office can make a big difference.

To help you get started, we put together some home office design ideas that will inspire productivity. Together with Accuride solutions, you can transform any space into a functional and organized home office. Now, let's get to work!
Improve Your Productivity with Hidden Storage
If your desk is currently cluttered with pens, excess paper, and other supplies, it could be impacting your ability to focus, and therefore, your workflow. The first step in creating an organized home office is to clear your desk of all excess items. This will help you better focus on the task at hand, improving your productivity throughout the day.

After you have sorted through the items on your desk, store what is necessary in drawers or cabinetry where they are hidden, but easily accessible. Accuride 3135EC slides are ideal for this type of hidden storage because of their undermount design, which conceals hardware beneath the drawer, creating clean lines in your workspace.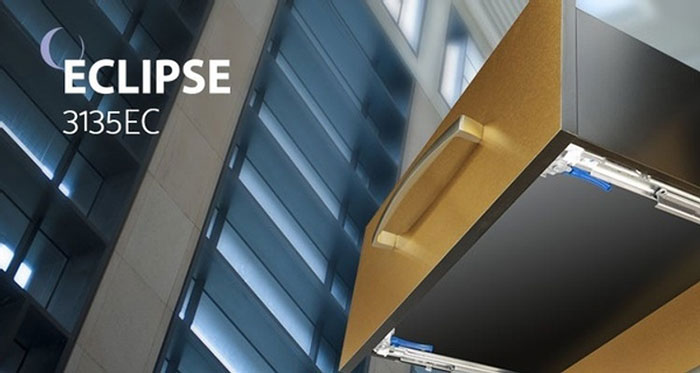 Create stylish and functional desk drawers with Accuride 3135EC undermount slides.
Also consider the number of electronics in your workspace. Likely, you'll need your computer. But, other electronics, such as printers, can be hidden as well. Consider using 3634EC medium-duty slides to create a pull-out printer drawer within your desk. That way, your printer remains stowed away until needed. Limiting the number of electronics visible in your workspace can help bring tranquility and further improve productivity.
Save Time by Organizing Your Files
Creating an organized home office can also help you save time. The International Data Corporation, a market research firm, found the average person spends five hours per week searching for documents. Imagine what you could do with all that extra time!

To start reclaiming your time, it is important to have a filing system in your home office that works for your needs. Accuride offers a number of slides for file cabinets that ensure reliable storage for your important documents.

Ensure your file cabinet won't tip over with the Accuride 3641X interlock slide system.
The 4034 medium-duty slide is designed with over-travel and premium progressive movement for easy access to deeper and heavier file cabinets. For tall, multi-drawer file cabinets, the 3641X interlock slide system provides stability and security. This system allows only one drawer to open at a time, ensuring your cabinet won't tip over when in use. The 3641X is also compatible with an optional gang lock system to help protect any confidential documents stored within your file cabinet.  
Use Movement to Transform Your Space
If you don't have a spare room to dedicate entirely to your home office, don't fret! Accuride offers numerous solutions for those with limited space that can help convert any corner or nook within the home into a fully functional home office.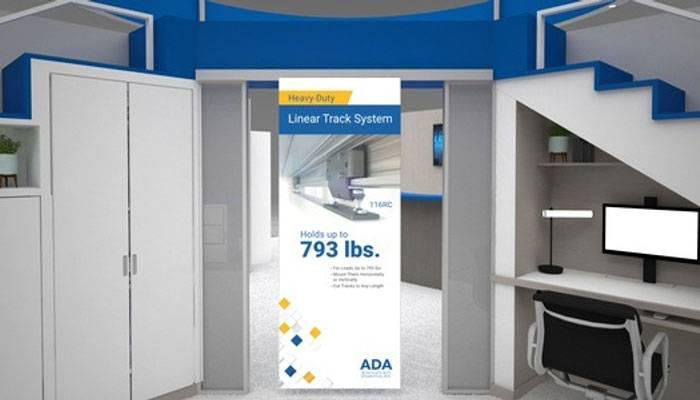 Accuride movement solutions can be used to transform any area in the home into usable space.
The CBLIFT-0019 is a simple, push-to-operate mechanical lift that conceals and provides access to computer screens in desks and other cabinetry. Best of all, no power is required to operate this lift. For those who use their workspace for multiple purposes, the CBLIFT-0019 provides an ideal solution.

Another great solution is the CBERGO-Tray 200, which allows you to store your keyboard underneath your desk. This solution comes complete with a removable palm rest and mouse pad. If that's not enough, the hold-in and hold-out detents keep your keyboard tray solidly positioned for maximum productivity and unfailing function.

Using these solutions, even the area underneath your stairs can be transformed into a productive workspace!

Are you working on a home office project this year? Visit our Homeowners page for more design ideas or shop our full selection of premium slides, guides, and tracks in our online store. Make sure to share photos of your finished project on social media with #Accuride for a chance to be featured on our pages. We can't wait to see what you create!
@accurideus #accurideus #accuride #drawerslides #accurideslides

For other relevant searches, you might want to try: