architecture - engineering - construction
Decoustics Ceiling at Jeremy West Hollywood Hotel, Hollywood, CA, USA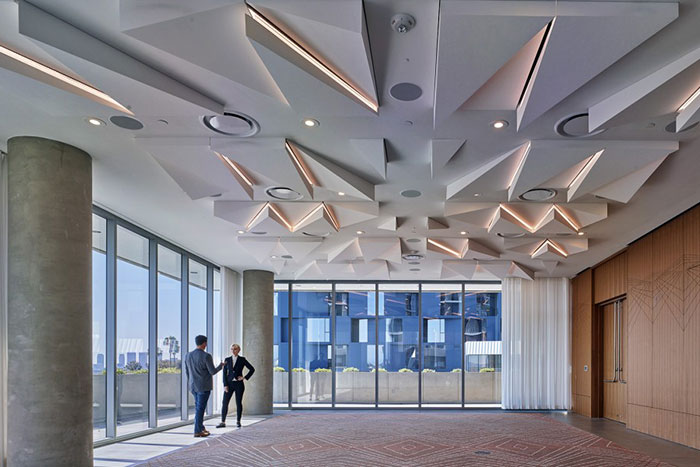 Photography: Fotoworks/Benny Chan, 2018
The Jeremy West Hollywood is a boutique hotel located on the iconic Sunset Strip in Los Angeles. Famous for its active nightlife since at least the 1950's, the Sunset Boulevard is rich in history and entertainment culture.

To capture the essence of this region SOM architects designed "the hotel interiors to recall both the urban, rock-and-roll legacy of the Sunset Strip and the archetypal home in the Hollywood Hills". Inside the hotel ballrooms Decoustics triangular-shaped panels with sloping design returns add an edge to the overall motif and visually deliver a 3D effect of floating forms that are coming out of the ceiling.

The triangular shapes are custom-engineered using Claro and have exceptional sound absorption properties, which ensures great acoustics inside the room. In addition, the entire ceiling plenum remains 100% downward accessible with the utilization of Ceilencio suspension grid. Decoustics delivers custom solutions that give you the creative freedom to attain both form and function in your designs.
@CTCeilings #CTCeilings #acoustic #ceilings #design

For other relevant searches, you might want to try: