architecture - engineering - construction
Faux Wood Beams Made in USA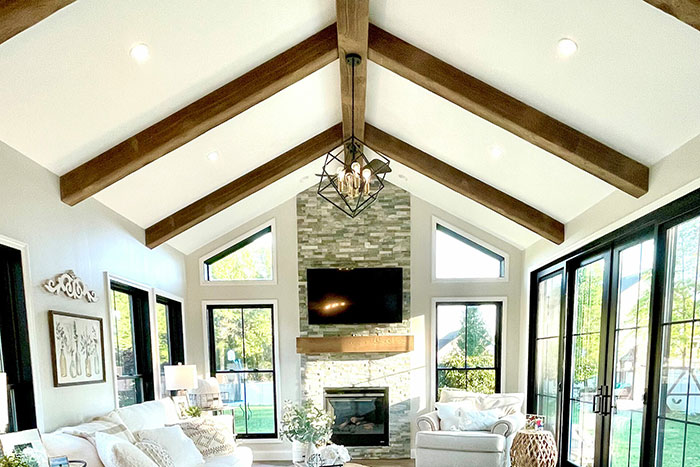 Faux wood beams or faux ceiling beams are often added to a ceiling due to the many positive benefits they have to offer when it comes to both looks and function. They can take an otherwise drab and boring space and turn it into something eye-catching and spectacular.

With that being said, let's explore faux wood beams and their many applications and benefits for interior design.

What Are Faux Wood Beams?
Faux wood beams are a cost-effective and budget-friendly way to add some character and drama to a space to improve the overall aesthetic. These decorative beams can effectively accent the ceiling and offer the room a certain degree of warmth and sophistication with the natural wood look.
Today's most common material used to make faux wood beams is high-density polyurethane foam. It is resistant to damage from light, water, and extreme weather elements. They are made to resemble real wood and come in various textures and styles. Since the materials are so light in weight, they are also easier to install than real wood beams.
Faux wood beams offer a very realistic appearance and are also sometimes constructed with molds of actual timber beams, and this offers some of those characteristics that are needed to make it hard to tell the difference between faux wood and real wood.
Advantages of Faux Wood Beams
There are many ways to see how faux wood beams are currently trending. Can you recall ever going into a home and seeing the wood beams? Do you think you could tell the difference between real and natural wood and faux ceiling beams if the opportunity presented itself to you?
The Promise of Versatility
Faux wood beams offer a lot in the way of versatility. They can be installed in any room you choose, and they can be placed in several different ways. For example, they can be installed horizontally or crisscrossed for a more complex look and style. They also add a lot of character and style to high ceilings.
Durability
Next to versatility, faux wood beams are also very durable and can withstand a lot of time and use. Real wood will eventually begin to split, rot, and chip. When properly cared for, faux wood beams will maintain their appearance for many years to come. They also require little to no maintenance to keep them looking their best.
Easy Installation
While a lot of labor is involved in installing faux wood beams, it is still a relatively easy and straightforward process, and with a little time and patience, you can easily accomplish this project and install the beams yourself. The faux wood beams are constructed to be lightweight, which means you should be able to carry the beams yourself.
Many Available Design Choices
There are many styles, colors, finishes, and designs you can choose from when purchasing faux wood beams for your home or business. Is there a certain décor and style you are trying to mimic? Then you can find faux wood ceiling beams that are not finished and can be painted yourself. Stain and paint are just two ways you can customize the beams yourself.
If you do not want to customize the faux wood ceiling beams yourself, you also have the option of other texture and color choices, so you are sure to find something that will fit seamlessly into your design.
#DecorativeCeilingTiles #DecorativeCeilings #CeilingTiles

For other relevant searches, you might want to try: