architecture - engineering - construction
Feeney ATR CableRail Assembly: GO BIG!
CableRail All Thread Receiver Assemblies: Solutions for Over-sized Posts
Feeney introduces the first CableRail assembly designed to give customers the freedom to select the length of the Threaded Terminal end based on their post size!
Like our standard CableRail assemblies all ATR CableRail assemblies include our Quick-Connect® SS fitting, washers, and washer nut, but instead of swaging on a Threaded Terminal with a preset length to one end of the cable, we attach our specially designed All-Thread Receiver (ATR). The customer then orders the length of all-thread they need, from 1 inch to 3 feet, attaches it to the receiver, and installs the assembly into the post. Easy!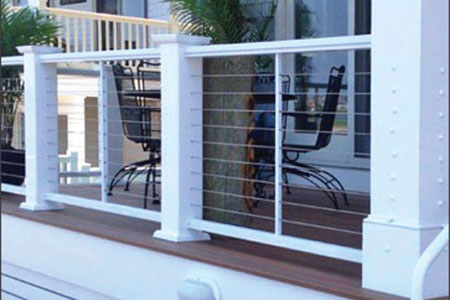 Key features and benefits
Recommended solution for installations that use larger posts such as pilings, piers, or columns.
Available with 1/8 and 3/16-in diameter cable.
Assembies available in lengths from 5 to 70-ft (In 5-ft. increments)
Only available as a special order item from Feeney Authorized Dealers.
Each Assembly Includes the following components
Pre-cut length of cable with an All-Thread Receiver Fitting attached to one end
Quick-Connect® SS fitting
1/4-20RH Washer Nut
Flat washers (stainless steel for wood posts and nylon for metal posts)
Feeney All-Thread Receiver Assembly Options
1/8" ATR Assemblies
These assemblies are our most popular and cost effective cable option. They are perfect for all residential and light commercial projects, and can be installed on wood or metal frames.
3/16" ATR Assemblies
These assemblies are extra durable for commercial and residential settings. They can be installed on wood or metal railing frames.
All-Thread
For each assembly, you will need to purchase a length of All-Thread: 1/4" - 20RH threaded rod made from 316 Stainless Steel (sold by the inch).

For other relevant searches, you might want to try: