architecture - engineering - construction
From Planning to Installation, National Gypsum Delivers 'Peace of Mind'
The team at Lasco Acoustics and Drywall trusts National Gypsum for the right guidance and materials to get the job done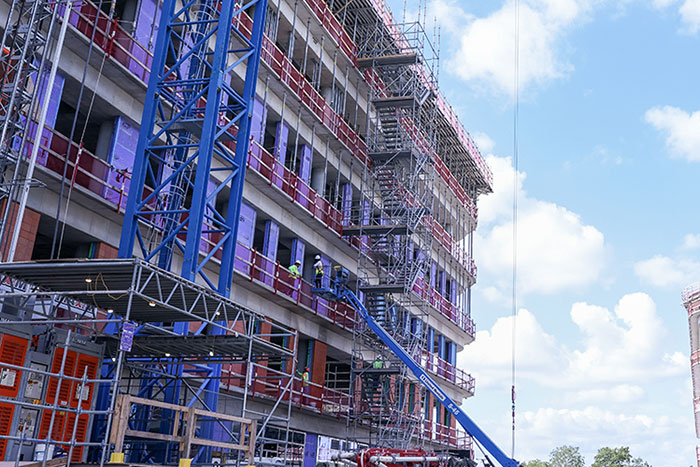 National Gypsum Company's goal is to save its customers time and money by providing the industry's most reliable drywall products, technical support and services. One such customer — Lasco Acoustics and Drywall — relies on National Gypsum to provide high-performance building products while also being a trusted advisor.

Since 1988, Lasco has completed more than 10,000 projects as it works toward the lofty goal of being the best drywall contractor in America — in the eyes of both its employees and its customers.

For Doug Mercer, a senior estimator at Lasco, this commitment to getting the work done right is also what he looks for in the partners he relies on to complete some of the largest construction projects across the state of Texas. National Gypsum fulfills these qualities and more, he said.



"The innovation, along with the customer service, knowing there's a rep there all the time that can help us out with anything that comes up," Mercer said. "Put those two things together and that just kind of gives you peace of mind on your project. Lasco and National Gypsum have kind of the same philosophies: if you make a customer happy that customer is going to come back to you, and I think that's really cool."

The commitment to helping customers get the information they need to make the right decisions is why National Gypsum field sales representatives are considered trusted advisors, rather than salespeople. Their priority is helping customers solve technical and design problems.

Every National Gypsum field sales representative is backed by Excellence Across the Board®, which consists of technical and account experts, as well as design resources, including:

1-800-NATIONAL® Construction Services: Answers questions related to specific use of gypsum-based materials, finishing product or cement board.
Construction Design Managers: Provide support for architects and specifiers through every phase of a project with expertise on sustainability documentation, fire- and sound-rated assemblies and industry building requirements.
Customer Service Center: Knowledgeable customer account specialists provide personal attention to customers placing orders and scheduling deliveries. Monitor order history and progress on the NGC4me.com® website.
Design & Resource Center: Convenient, always-open access to submittals, specifications, literature and sustainability documentation.
Innovation that saves time and money
On a key project in Austin, Texas, Lasco utilized several drywall products provided by National Gypsum Company to help solve unique challenges.

"This was a really tough job to estimate — there's a bunch of curved angles on it, nonlinear, asymmetrical walls and circular windows — and they had a list of different gypsum panels they wanted to use," Mercer noted. "National Gypsum has such a diverse line of products that you really don't have to go looking anywhere else."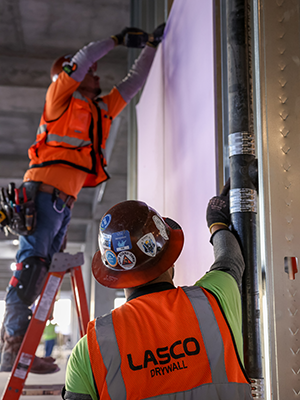 As the exclusive provider of high-performance building products manufactured by Gold Bond Building Products, LLC, National Gypsum Company supplied Lasco with multiple PURPLE products to meet the different functional needs throughout the project:

Gold Bond® XP® Gypsum Board, which provides extra protection against mold and mildew to help fight the effects of moisture before damage can occur.
Gold Bond® XP® Hi-Impact® Gypsum Board, which features fiberglass mesh embedded into its core to resist penetrations where walls are subject to impact from hard objects.
Gold Bond® eXP® Sheathing, which uses a specially designed fiberglass mat on the face, back and sides to reinforce and protect the core of the board while providing superior weather resistance.
Gold Bond® eXP® Shaftliner, which allows for constructing lightweight fire barriers for cavity shaftwalls (1–4 hours) and area separation firewalls (2 hours).
"We like using the PURPLE family of products because of the innovation: the combination of GridMarX® and MaX 12® it speeds up installation, and that saves time and money," Mercer added. "GridMarX saves about 30% in screws — and if you're putting up 5 million panels a year, that's a lot of savings in both time and material."

From residential contractors to large commercial drywall installers, such as Lasco, using Gold Bond gypsum board products with the combination of GridMarX and MaX 12 helps achieve increased fastener accuracy, enhanced installation quality and code compliance.

"Nothing compares to PURPLE board," said Juan Sanchez, foreman, Lasco Acoustics & Drywall. "You just follow the marks and that's easy for my guys. Whenever the inspector comes, it's easy for him to see we're [within] the code."

But even with access to industry-leading innovation and service from National Gypsum, Mercer knows all-too-well that a large job has a lot of variables and unpredictable issues can often arise. That's another reason he values his relationship with National Gypsum as a partner he can rely on no matter what challenges come up on a project.





"I've always said the measure of a company is not the mistakes they make, but how they fix them," Mercer said. "It's been very few and far between, but whenever there has been a problem, National Gypsum is there on the spot asking, 'How can we make this right?'"

If you're looking for a trusted partner to help with technical support, product insights or service, contact National Gypsum's team of experts for the solutions and answers you need to make more informed decisions.

The color Purple is a registered trademark of Gold Bond Building Products, LLC
@NationalGypsum #NationalGypsum #construct

For other relevant searches, you might want to try: